Nigerian authorities have suspended the Boeing 737 operations of Max Air over safety concerns with the carrier.
The Nigeria Civil Aviation Authority says the suspension takes "immediate effect".
Max Air's fleet includes six 737s – a mix of -300s and -400s – alongside Boeing 747-400s and a 777-200, according to Cirium.
The regulator states that its decision is based on "several" occurrences involving 737s operated by the Kano-based airline.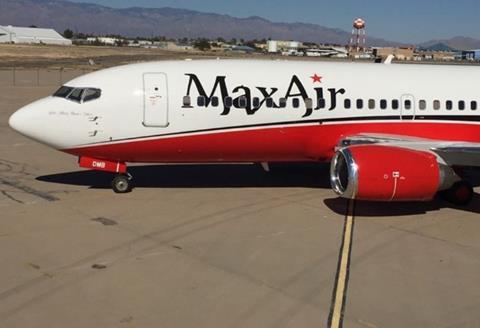 These include the loss of a main landing-gear wheel during a flight to Abuja on 7 May.
According to the Civil Aviation Authority, three other incidents occurred within a week in early July.
They comprised a fuel contamination event, resulting in auxiliary power unit shutdown at Yola, a duct overheat indication which led to a return to Abuja, and an aborted take-off from Kano owing to high exhaust-gas temperature indications.
Max Air is to undergo an audit after the authority assigned a team of inspectors to the carrier. The authority adds: "The result of the audit on Max Air must be satisfactory before the airline would be allowed to further operate the aircraft type."