In a sign of Singapore's air travel recovery, more foreign carriers are flying to the city state now than in 2019, before the coronavirus pandemic.
As of the first week of March, 95 foreign airlines are serving Singapore, up from 87 in 2019 and 39 at the lowest point of the pandemic, according to figures published by the Civil Aviation Authority of Singapore (CAAS).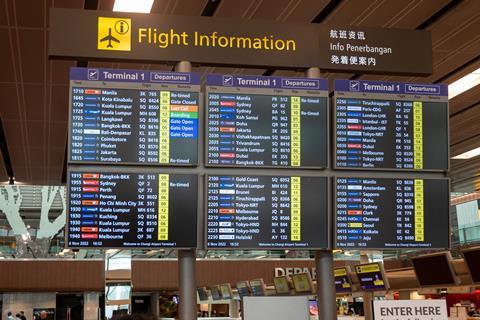 Still, capacity still lags. Air traffic is around 80% of pre-pandemic levels, with 197 Singapore-registered aircraft in operation, against 231 in 2019. In addition, 24 Singapore-registered aircraft are stored, as compared with six in storage in 2019 – the stored aircraft in 2019 were Boeing 737 Max 8s destined for eventual use by Singapore Airlines.
Singapore's number of city links is also lower, at 142 compared with 175 in 2019. Pilots are also busier, flying 75h monthly, the same level as in 2019, and far more than the average 5h of monthly flying during the pandemic.
The CAAS released the figures in the context of rebuilding air traffic while also ensuring safety.
"With the skies above us set to be busier than ever before, aviation safety must be our top and undisputed priority," said Singapore Minister of Transport S Iswaran, addressing a safety event in the city state.
"While aviation has become safer over the years, brought about by innovations in technology and improvements in processes, we cannot take this for granted."
He says that stress-testing safety systems, ensuring flexibility to update procedures and processes, and a positive safety culture are key as air traffic continues to grow. He estimates that Singapore's air traffic will hit pre-pandemic levels by the end of 2023.
Iswaran also announced the establishment of the Asia Pacific Centre for Aviation Safety, which will be set up in Singapore by the Flight Safety Foundation.
Adds Iswaran: "The aviation sector in the Asia-Pacific is at a pivotal moment. We have survived the turbulence of the COVID-19 crisis, and the skies ahead are bright with opportunities. But we must always remain prepared for new and unexpected challenges."