A stick shaker activation on a Saab 340B operated by Australia's Regional Express (Rex) highlights the dangers posed by task saturation in the cockpit, says the Australia Transport Safety Bureau (ATSB).
The aircraft VH-ZLJ (MSN 340B380) was operating a scheduled flight from Perth to Albany on 6 July 2021, according to the ATSB's final report into the incident, which it rates as serious.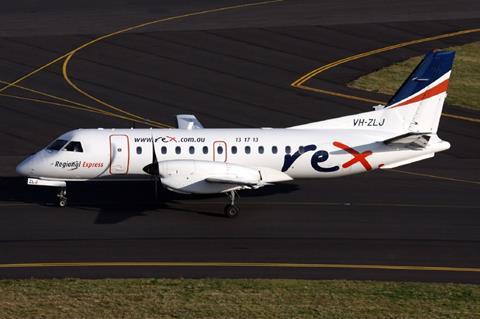 As the aircraft climbed through 6,000ft at roughly 16:23 the crew activated anti-icing systems. Shortly thereafter the caution lights indicated a de-ice system fault.
The crew was unable to resolve the issue, and decided to descend to 5,000ft, below icing conditions, and return to Perth.
Over the next 2.5 minutes, air traffic control (ATC) issued several instructions to the crew, and also requested flight information.
"As the aircraft was levelling off at 5,000ft under autopilot control, ATC instructed the crew to make a right turn," says ATSB.
"About 20 seconds after beginning the turn, the aircraft's aerodynamic stall warning stick shakers activated. The first officer initiated the stall recovery procedure before the captain took control as pilot flying to complete the recovery."
The aircraft landed safety in Perth at 16:42.
ATSB notes that the pilot and pilot monitoring were task saturated owing to the high workload, and did not observe the aircraft's falling airspeed. Subsequently, the board states, Rex updated its flight crew training simulator sessions to cover flight at minimum maneuvering speeds, which provide a margin over a stall during aircraft maneuvering.
"This stick shaker activation incident highlights that during periods of high workload, where there is an increased chance of making mistakes or errors, flight crews should prioritise monitoring critical flight parameters," adds ATSB.
"Effective communication can help flight crew recognise a situation when their workload is becoming overwhelming, and consequently better manage the situation – for instance, giving themselves more time to complete the required tasks by discontinuing an approach, or deferring air traffic control requests appropriately."
There were 16 passengers and three crew aboard the aircraft at the time of the incident, with no injuries reported.