After a series of false starts, Singapore's plans to reopen its borders – and reclaim its status as a global air hub – are well underway, though full recovery remains an elusive goal.
The Vaccinated Travel Lane (VTL) scheme has grown to 24 countries and regions across North America, Europe and Asia-Pacific since its rollout in September 2021.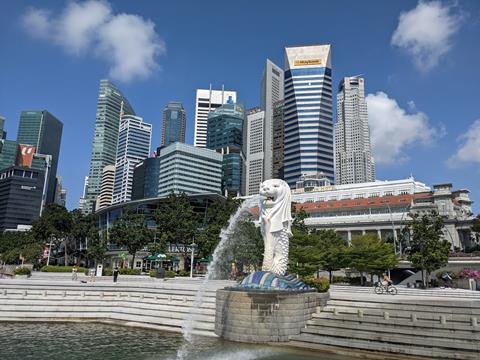 While Singapore paused the scheme amid a spike in infections caused by the Omicron variant, the city-state has reiterated its commitment to press on with border reopening.
Speaking in Parliament on 10 January, transport minister S Iswaran said the city-state remains confident "of the long-term potential of air travel", with further recovery expected in 2022.
The VTL scheme forms part of Singapore's long-drawn efforts to reclaim its air hub status, after being battered by the coronavirus pandemic.
With no domestic market to fall back on, and a heavy reliance on international and transit traffic, border closures during the onset of the pandemic meant Singapore's status as a world-leading air hub was in jeopardy.
The VTL scheme is not the city-state's first attempt at reopening borders amid the pandemic.
As early as October 2020, the Southeast Asian city-state was exploring ways to safely reopen borders with cities or countries with low incidence rates of the coronavirus.
Singapore and Hong Kong – another city with a low infection rate that was also reeling from a collapse in travel demand – announced that they would be establishing a travel bubble.
The arrangement, which allows for leisure travel without the need for mandatory quarantine on arrival, was to commence on 22 November 2020, and was the first of such an arrangement for both cities.
At the time, the move – hailed as a "milestone arrangement between two aviation hubs" – was seen as a promising sign of what a travel restart could look like: onerous quarantine stays replaced by regular testing, with a calibrated arrival limit put in place.
However, a day before the travel bubble was due to commence, Singapore and Hong Kong scuppered launch plans, after the latter reported a spike in coronavirus infections.
Subsequent attempts at restarting the travel bubble were thwarted by a rise in infections in either Singapore or Hong Kong.
By July 2021, any remaining hope that the travel bubble could be revived were dashed, when it became evident that Singapore and Hong Kong – once cities with similar pandemic management strategies – were drifting further apart in terms of their approaches.
'A USEFUL PATHFINDER'
For a brief few months in the middle of 2021, Singapore's plans to restart international travel and revive its air hub status lay dormant.
Then came 19 August 2021, a date seen by many as a turning point in Singapore's border reopening strategy.
Singapore authorities announced the rollout of the VTL arrangement to Germany and Brunei, in the first step of a "cautious" easing of travel restrictions.
Speaking as part of a pandemic task force press conference, where plans to gradually treat the coronavirus as endemic were outlined, Iswaran said it was critical that the city-state's borders remained open and "connected to the world".
He added: "[Singapore is] reopening in a careful and calibrated manner, striking a balance that will protect lives and livelihoods. And that is the same approach we will adopt to the re-opening of our borders and resumption of air travel – careful, calibrated, step-by-step."
On 8 September, the first flight of 100 passengers under the VTL scheme landed in Singapore, kickstarting the city-state's reopening plans.
A month later, Singapore would take another significant step, this time announcing its largest reopening to date – it announced that it would expand quarantine-free travel lane arrangements to several countries in Europe, South Korea, as well as Canada and the USA.
It later added more Asia-Pacific countries, including Australia, Thailand and Cambodia, to the growing list of countries under the scheme.
While there has been "good take-up" of the VTL arrangement, the nature of the scheme, where a fixed number of travel passes are issued to short-term visitors into the country, means that arrival numbers are still largely managed.
Consequently, any semblance of a pre-pandemic recovery would seem some way off – for now at least.
Still, the scheme is seen to be improving what would have been a dire situation for flag carrier Singapore Airlines and Changi Airport, with both companies reporting significant increases in passenger numbers towards the end of 2021.
For example, Changi Airport's passenger numbers were about 15% pre-pandemic levels as at end-December, a marked increase from the start of the year when it was just 3% pre-pandemic numbers.
And while Singapore has seen a spike in infections, there has been doubt over the country's reopening plans, but the authorities appear to want to stick to their guns.
At the 10 January parliamentary speech, Iswaran defended the scheme, stating: "The VTL scheme is a useful pathfinder for us to establish, test and build confidence in safe reopening to vaccinated travellers.
"Ultimately, we want to work towards quarantine-free travel for all vaccinated travellers."