Brazil's Azul posted a profit in the fourth quarter of 2020 and is preparing for a stronger-than-industry-average recovery, especially across its domestic network and cargo operations.
The Sao-Paulo-based airline reports on 4 March that its fourth-quarter revenue more than doubled from the third quarter but remains 45% lower than in the same quarter one year earlier, coming in at R1.8 billion ($320.5 million). For the full year 2020, the airline reported R5.8 billion in revenue, down 49% from 2019.
Azul's profit for the final quarter of 2020 was R543.4 million, 37.7% lower than in the fourth quarter 2019, when profit came in at R872.8 million.
But Azul stands out among the world's airlines for turning a profit at all amid the Covid-19 pandemic.
Factors key to Azul's recovery, executives say, are fleet flexibility, increasing domestic-travel demand and limited competition, with Azul facing no airline competitor on 80% of its routes. Azul's cargo business has also benefited as e-commerce companies search for delivery solutions to far-flung cities across the country.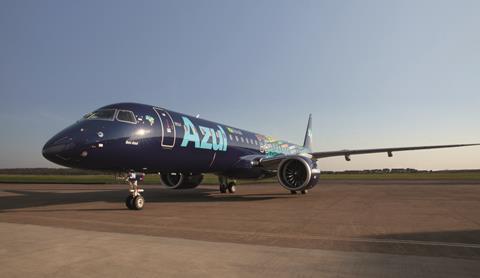 "One year ago today, we had R$2.2 billion in cash, no vaccines on the horizon and we were flying only 70 flights a day," says John Rodgerson, the airline's chief executive. "One year later, we have R$4 billion in cash, 220 million vaccines arriving in the next four months and more than 700 flights a day."
"We have some challenges ahead, but we certainly feel confident in our competitive position," Rodgerson adds.
Domestic demand recovery in Brazil continues to be among the fastest in the world, the airline says. Azul flew 91% of its pre-pandemic capacity during the fourth quarter of pandemic-plagued 2020, and notched a load factor of almost 81%.
The airline expects first-quarter 2021 capacity to exceed that in the same period in 2019. It is now flying to 117 destinations, more than before the global health crisis nearly shut down air travel one year ago.
But the tide is turning quickly, executives say, and the airline has already made major strides toward renewed profitability. With the roll-out of vaccines across the country and region, they expect customers will return in even greater numbers in the coming months. While international travel fell to a trickle in the wake of travel restrictions that, in some countries, are going into their twelfth month, domestic travel has made up for it.
"Lockdown has been a blessing for domestic travel," says Azul's founder and president David Neeleman. "People are spending a lot of money locally – that helps drive domestic demand."
Border closures and travel restrictions have "not impacted us as much as we thought, because people are going to other destinations".
CARGO HIGHLIGHTS
Cargo operations are busier than ever, Azul says.
Cargo revenue jumped 66% in the fourth quarter compared to the same time period in 2019, to R255.4 from R153.9 million. For the full year, cargo revenue increased 31.8% over 2019 levels.
"We have built out a unique capability, handling packages door-to-door," says Abhi Shah, Azul's chief revenue officer. In February alone, Azul delivered one million packages, he added. "We are seeing a lot of growth and have a great end-to-end solution."
"We don't have much competition especially when you include 115 domestic destinations … and our ability, with marginal cost, to utilise our existing network to get stuff to remote places all over Brazil for our e-commerce customers," he adds.
Azul's fleet also enables it to tailor capacity to route-specific demand, Shah adds. "If you have a medium-sized city with an e-commerce client base, but it's not ready for a dedicated freighter, we can use an [Embraer] E1."
"We are creating demand and new routes [for cargo] just like we did with the passenger business a long time ago," he adds.
FLEET RENEWAL
Neeleman says Azul expects to receive four new Airbus aircraft in 2021, but he makes no other fleet announcements.
"Airbus and Embraer would love to advance aircraft to us, but we want a better deal," he says. "Certainly we see a lot of potential in the [Embraer] E2 and [Airbus] A320neo. That is strategic for us moving forward, but it has to be under the right conditions."
"There's no business taking new aircraft when you are not fully utilising the aircraft you have. We want to get back to full utilisation before we think about bringing in new metal," he adds. "We need to get this airline back to where we were pre-crisis, and then we will think about getting back to the fleet transformation."
Azul ended 2020 with 162 aircraft in its operating fleet. That is 10 more than it had in the third quarter of 2020, and 12 more than in the fourth quarter of 2019.