The government of Canada will take an equity stake in legacy carrier Air Canada after the company struck a deal for financial support as the coronavirus crisis continues to tear into the airline's business.
The Montreal-based carrier says on 12 April that it will enter "a series of debt and equity financing agreements" which will allow it to access up to C$5.9 billion ($4.7 billion) in financial aid.
It is in essence the bailout that the airline has been requesting for months, as travel restrictions continue to hamper a sustainable recovery in air travel in that country.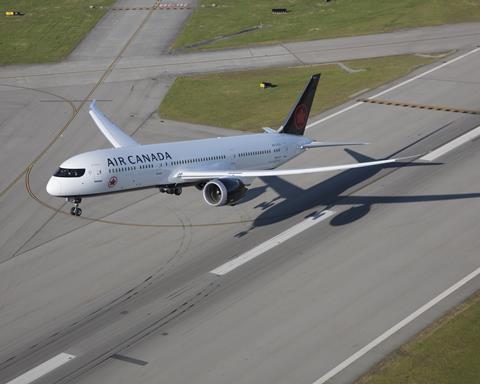 In addition to the Air Canada deal, government officials say on 12 April that it is having "good … and constructive" discussions with other airlines in Canada about further aid, including Calgary-based WestJet.
"This is a good and fair deal for Canada and Canadians," says Canada's minister of finance Chrystia Freeland on 12 April. "These are hard and unprecedented times for our airline industry and workers as well as Canadian travellers."
The airline, meantime, says it is working to dig itself out of its pandemic-driven slump, and appreciates the help.
"Air Canada entered the pandemic more than a year ago with one of the global airline industry's strongest balance sheets relative to its size. We have since raised an additional $6.8 billion in liquidity from our own resources to sustain us through the pandemic, as air traffic ground to a virtual halt in Canada and internationally," says the legacy carrier's chief executive Michael Rousseau.
The deal, he adds, provides the airline with additional liquidity to "rebuild our business to the benefit of all stakeholders and to remain a significant contributor to the Canadian economy".
The agreement contains various loans of up to $4 billion that the airline can use as needed, and the government will take a stake in the company to the tune of C$500 million. It will also have the option of taking further shares in the future.
STRINGS ATTACHED
In return, Air Canada has to agree to certain conditions.
The carrier will receive $1.4 billion that will go towards issuing voucher refunds for non-refundable fares that were purchased in early 2020 but which customers did not use due to either cancelled flights or the travel restrictions that were imposed in response to the pandemic. Air Canada will have to pay back fares purchased on or before 22 March 2020 for travel after 1 February 2020.
Travel agents who sold the tickets will not be required to return the commissions, Freeland says.
The airline must begin paying out the refunds no later than 30 April.
"The government of Canada fully expects to be paid back," Freeland says, repeatedly emphasising that Canadian taxpayers will not be funding these refunds, but rather Air Canada will.
The deal also requires Air Canada to resume air service and give access to smaller communities where it had suspended operations last year. For some of those locations, Air Canada has permanently ended air service. So, the company promises to "reach agreements with other carriers to ensure Canadians can continue to have ready access to their preferred airports and to the flights they need", Freeland says.
Similar to conditions in the US CARES Act, which granted US airlines billions in financial relief a year ago, Air Canada will be required to restrict dividends, share buybacks and executive compensation as long as it has the loans. Freeland says total compensation will be capped at C$1 million.
The airline must also maintain employment at the level it was on 1 April 2021.
With this financial support, the carrier will be able to acquire 33 Airbus A220 aircraft, which will be manufactured in Airbus' Mirabel, Quebec facility – thus securing Canadian aerospace jobs as well, Air Canada says.
"Air Canada has also agreed to complete its existing firm order of 40 Boeing 737 Max aircraft," the carrier adds.
Airline management, along with unions, have been asking the government for sector-specific support since the coronavirus pandemic tore around the world a year ago, leading to aviation's biggest crisis in history.
Air Canada said in February that it ended 2020 with a fourth-quarter loss of C$1.2 billion, closing a year the company called "undeniably grim". For the full year, the airline posted a C$4.6 billion loss.
STRICT RESTRICTIONS
Early on, Canada imposed some of the strictest travel restrictions in the world, making it difficult and complex to plan travel anywhere. The government closed the border between the USA and Canada on 21 March, and it has yet to be reopened. It also continues to maintain a pre-departure testing requirement as well as a mandatory 14-day quarantine for all arriving passengers. The first three days of the quarantine must be spent in government facility at the traveller's expense, pending a negative coronavirus test.
In January, the government requested all airlines to temporarily suspend service to southern sun destinations during the all-important Spring Break season, blocking any hope of a rebound in the early part of 2021.
Canada's minister of transport, Omar Alghabra, on 12 April calls the agreement with Air Canada "a major step" to economic normalcy in the country. However, he reminds Canadians that they should continue to remain home because the crisis is not yet over.
"We continue to emphasise this is not the time to travel. The health and safety of all Canadians will always be our top priority. But we know that a strong Canadian air sector is vital to our economy," he says.
Alghabra and Freeland add it was important to secure a "win" for the federal government.
"With any agreement, the public interest must be respected, workers will be protected and the interests of passengers will be defended. Today's announcement meets these three criteria," Freeland says.
While the country's biggest carrier has now secured a deal, negotiations with other airlines are ongoing, the lawmakers say.
"Those conversations are complicated, and they are difficult but what I can say is that we are still talking with the other airlines, including WestJet, with whom we are now having constructive discussions," Freeland says.