Delta Air Lines expects to generate $45.5-45.6 billion in revenue in 2022, almost as much as it earned in 2019, and 15-20% more than that in 2023 as the carrier predicts a strong and long-lasting post-Covid-19 recovery.
During an investor day on 14 December in New York, executives called 2022 "a year of significant progress in the restoration of the airline's financial foundation".
"2022 is proving to be a pivotal year, as we rebuild the world's best-performing airline," says chief executive Ed Bastian. "Demand for air travel remains robust as we exit the year, and Delta's momentum is building."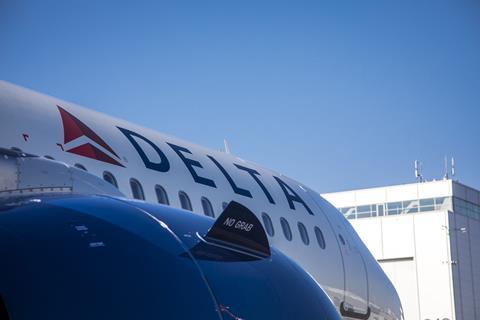 The revenue goal is slightly less than that of pre-pandemic 2019, when Delta logged $47 billion in sales. Revenue in the fourth quarter of 2022 is anticipated to be 107-108% of that during the same period in 2019. Revenue from the lucrative corporate travel segment has recovered to about 80% of pre-Covid levels.
Delta also targets hitting an operating margin of 7.7% in 2022, 10-12% in 2023 and 13-15% in 2024.
The airline's 2022 capacity, measured in available seat miles, is now at about 85% of 2019 levels but will likely exceed the 2019 benchmark in 2023, Delta predicts. The Atlanta-based company plans to retire all its 50-seat jets in 2023. According to Cirium fleets data, Delta and regional partners operating aircraft on its behalf have 49 of those jets, all Bombardier CRJ200s and all in storage.
Executives say they are optimistic Delta will grow but are wary of expanding too quickly, overstretching its capabilities.
"We are very sensitive to the economic outlook, and we have a lot of levers that we are able to pull," Bastian says.
A global recession, high jet fuel prices, supply chain issues and a labour shortage are among the headwinds facing Delta.
"For all intents and purposes, we're in a recession in Europe," Bastian says, but transatlantic demand remains strong and is expected to improve even further. "Transatlantic is our largest entity by far," he adds. The summer season was "solid" and travel patterns "held up well".
Delta expects to end the year with 902 jets in its mainline fleet and 367 regional aircraft. Next year, those figures are forecast to be 969 and 325, respectively.
"There are sustainable macro trends impacting our industry that are going to be greater than one individual airline's initiatives, that will continue to supply a lot of growth and that will stay around for quite a substantial period of time," Bastian says.
"We have optimism, renewed confidence, and we have our hands more firmly on the dials of this business, It was a great year for our company. We hit all of our core targets in the midst of uncertainty. I think this thing is going to continue to do well."