Ethiopian Airlines' decision to temporarily convert 25 passenger aircraft for cargo operations has helped it to become "cash positive" during the Covid-19 crisis, according to the African carrier's chief executive Tewolde Gebremariam.
Speaking during a CAPA Live event on 10 February, Gebremariam notes that combined with Ethiopian's uniquely strong financial performance in the region over the past decade, its "quick decision" to focus more capacity on cargo operations in the early days of the crisis has paid off.
"We have a very strong cash flow," he states. "We are still managing our cash flow within our internal resources, without any bailout money and without any borrowing for liquidity purposes, and without any lay-offs or salary reductions."
Therefore, while the return of more passenger operations will be the catalyst for a full recovery, the state-owned carrier is "at least in a better position than the rest of our peers" in Africa.
Ethiopian's decision to convert more aircraft for freight operations – by removing some or all of the seats from passenger cabins – came as it recognised two important factors in the early days of the crisis, Gebremariam explains: less bellyhold capacity in the market with passenger aircraft out of action and the increased demand for the transport of "PPE and other medical equipment" related to Covid-19.
Favourable fuel prices have also been important.
"There was a significant [cargo] capacity increase at the right time," he recalls. "The yield was very good, demand was very high, so we took advantage of that opportunity.
"We've shown agility, speed of decision-making and resilience, and that has helped us."
Those 25 "make-shift" cargo aircraft are operating alongside the Addis Ababa-based carrier's 10 Boeing 777-200Fs and two 737-800SFs.
Ethiopian has previously confirmed that the converted aircraft include five 737-800s, five Dash 8-Q400s, four Airbus A350-900s, four 777-300ERs, two 767-300ERs and two 787-9s. FlightGlobal has asked the carrier to confirm the identity of the remaining three aircraft.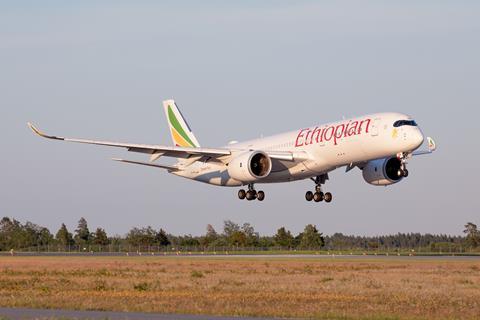 The temporary conversions have buoyed the carrier's performance at a time when, in common with international long-haul operators around the world, passenger demand for its services is severely depressed.
In Ethiopian's case, that means losing "the entire passenger business between China and Africa" – a market that has long been key to the Star Alliance carrier's network.
Crucially, however, it has maintained "close to 50 cargo services a week" to China, Gebremariam says, transporting "industrial products, industrial goods, mobile phones, IT equipment", alongside medical products.
Among those services, the carrier handles "European exports to China and from China to Europe" – much of it via Maastricht airport in Belgium.
Leveraging a pre-pandemic network that featured long-haul flights to destinations around the world, Ethiopian is also seeing demand for freight services to destinations throughout the Americas, Gebremariam states, boosted by an agreement to operate dedicated cargo flights for fashion retailer Zara.
It also launched trans-Pacific services from Seoul Incheon to Atlanta via Anchorage in November last year.
Amid this demand for cargo operations, Ethiopian's 'cash-positive' situation contrasts sharply to that of the region's wider airline sector, Gebremariam suggests.
"The aviation industry in Africa was not in a good shape, even before Covid," he states. "This is an industry that has been losing money… for six, seven years in a row."
Africa's airline industry has therefore been "severely damaged" by the pandemic – perhaps more significantly than any other region, he believes.
The situation has been exacerbated by a number of factors, according to Gebremariam, including the strict border controls implemented by governments for large parts of 2020, little state support for operators, and the lack of capital markets in Africa.