Virgin Australia's biggest shareholder Etihad Airways says dealing with the coronavirus impact on its own business meant it was unable to provide further funding to the carrier, but that it remains open to "constructive discussions" over a potential restart.
The Australian carrier entered voluntary administration on 21 April as it seeks to recapitalise the business.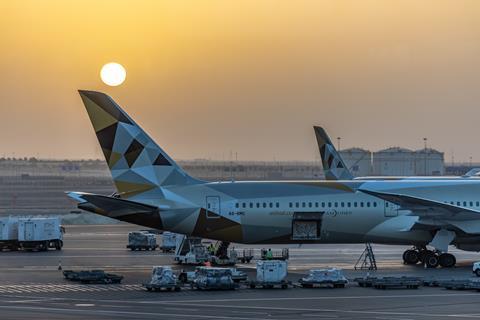 "Etihad Airways is disappointed Virgin Australia has had to enter voluntary administration due to the unprecedented challenges and consequences of the Covid-19 pandemic," the Gulf carrier, which holds a 25% stake in the Australian operator, says in a statement.
"Over recent weeks we have worked closely with the company and all key stakeholders to try and find a solution that would have avoided administration for Virgin Australia, but unfortunately did not succeed," it adds. "Having to deal with the impact of the Covid-19 crisis on our own business, we were unable to provide additional financial support in the current circumstances."
Virgin Australia – the country's second-largest carrier – had sought a A$1.4 billion ($890 million) bailout from the federal government to get it through the coronavirus crisis, which has seen it ground its fleet and halt operations. The Australian government provided several relief packages for its aviation industry as a whole, without directly addressing Virgin Australia's request for specific assistance.
Virgin Australia administrator Vaughan Strawbridge, from Deloitte, says: "Our intention is to undertake a process to restructure and re-finance the business and bring it out of administration as soon as possible. We have commenced a process of seeking interest from parties for participation in the recapitalisation of the business and its future, and there have been several expressions of interest so far."
Etihad says: "We are in the midst of the biggest crisis the aviation industry has ever seen, and we have to focus on our own response to Covid-19 and recovery planning, supporting our guests and our staff, and working towards a sustainable future so we are able to continue to serve the travelling public."
But, describing Australia as an important market for Etihad, the Gulf carrier adds: "We hope that the administration will allow for some form of resumption of service and remain open for constructive discussions on a potential re-launch of the company."
Etihad has over the past two years been focusing on is own major restructuring efforts.
Virgin Australia's collapse means that all but two of the carriers Etihad invested in as part of its high-profile equity-alliance strategy have now entered formal restructuring or ceased operations.
While European carriers Air Berlin, Alitalia and Darwin Airline felt the immediate impact of Etihad's move to pull back on further funding of its struggling equity partners, in the past year both Jet Airways and now Virgin Australia have followed in entering a formal restructuring process. A year since ceasing flights, Indian carrier Jet remains grounded and is seeking fresh investment.
It leaves just Air Seychelles and Air Serbia – both relatively small players – as the only airlines Etihad invested in during this period to have avoided formal restructuring. That excludes Irish carrier Aer Lingus – in which Etihad had an interest and small investment in prior to its acquisition by IAG in 2015.
This is perhaps unsurprising given Etihad's acquisitions – in support of quickly building network scale – largely focused on distressed carriers and where it was predominantly restricted to minority ownership and control.
But while Virgin Australia's financial track record – it has lost money for its past seven financial years – does not stand out, the airline differs from some of Etihad's other investments given the wider market interest in the airline.
Singapore Airlines, HNA Group and Air New Zealand all joined Etihad as strategic airline investors – albeit the latter has since sold its stake – as Virgin Australia proved a popular unaligned partner for several carriers given its position as one of two major Australian airlines.
That includes a transpacific joint venture with Delta Air Lines, in addition to its extensive joint ventures with Etihad and Singapore Airlines. Air New Zealand ended its trans-Tasman joint venture with Virgin Australia in 2018 when it sold down its stake.
China's HNA Group has been linked with the potential divestment of its 19% stake in Virgin Australia over the past 18 months as it battled its own liquidity challenges.
Etihad struck its wide-ranging commercial partnership with Virgin Australia in 2010, before taking a small equity stake in 2012. It steadily increased this stake over the next three years, ultimately taking its equity share to 25.1% in December 2015.