ExpressJet Airlines is evaluating "options for the future" following a severed relationship with United Airlines, though the regional carrier's trade association says ExpressJet has warned of a "potential phased wind down".
"We are very disappointed that United Airlines did not select ExpressJet Airlines to be its future ERJ145 United Express operator," ExpressJet says in a 31 July statement. "We will now explore all options for the future of our company in 2021, while we expect to continue normal operations through the rest of this year."
"Over the years, our employees have demonstrated the ability to run a high-performance, efficient and nimble airline – one that has on multiple occasions quickly adjusted to the needs of its major airline customer," Atlanta-based ExpressJet adds.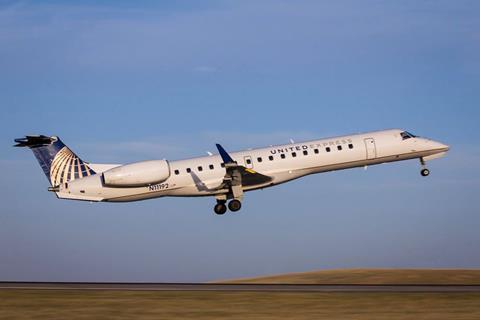 On the same day, the Regional Airline Association (RAA) says member ExpressJet has warned of "its potential phased wind down by the end of the year".
The carrier did not comment about the RAA's claim of a wind down.
ExpressJet is one of two regional carriers – the other being CommutAir – that operate Embraer 145 regional jets for United.
But on 30 July, United said it will "consolidate all of our E145 operations into CommutAir, which will then become United's sole operator of this aircraft type. This transition will take a number of months."
United owns 40% of CommutAir, according to that carrier.
Earlier this year, United also ended its relationship with regional carrier Trans States Airlines, which has since shuttered completely.
RAA says ExpressJet's wind down reflects both the economically shattered state of the airline industry and a lack of financial support afforded to smaller carriers by the US government's coronavirus relief package.
"Smaller carriers lack access to the full suite of financial assistance envisioned" by that package, RAA says.
Regional airlines like ExpressJet "remain uniquely vulnerable to service decisions beyond their control", RAA adds. "For ExpressJet, it may already be too late."
Some regional airlines, but not all, were considered major airlines under the terms of the coronavirus relief package, called the CARES Act. That means they must pay back some of the government funds set aside to fund workers' salaries, RAA says.
"Congress did not intend to leave smaller carriers behind," RAA says, adding that the Department of the Treasury "declined to exercise the flexibility… to work with smaller carriers, instead imposing strict collateral and loan-to-value requirements that most regional airlines, with limited unencumbered assets, struggle to meet."
RAA and other airline groups are calling on Congress to pass another round of airline financial relief.