Thai Airways International and Asiana Airlines, both undergoing restructuring, have disclosed details about selling off non-core subsidiaries.
Thai Airways completed on 19 January the sale of a 15.5% stake in Bangkok Aviation Fuel Services (BAFS) to Ratch Group for Bt2.7 billion ($90 million), at Bt27.40 per share, it said in a same-day statement.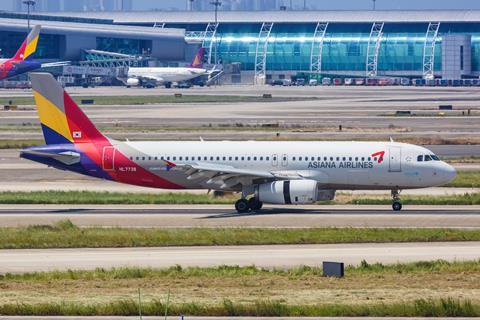 Thai Airways states that this is a third-party transaction, and that BASF's core businesses include aviation fuel storage system and aviation refueling system in airports across Thailand.
All three entities are listed on the Thailand stock exchange. Ratch Group's website indicates it is operated as a holding company that invests in energy, power generation, and infrastructure projects.
The carrier states in a same-day press release that the transaction was approved by Thailand's Central Bankruptcy Court on 3 December. Thai Airways' planners gave their approval on 23 December and the parties entered into a share purchase agreement on 29 December.
Following the transaction, Thai Airways holds 45 million shares in BASF, equivalent to a 7.1% stake.
Meanwhile, Asiana Airlines has selected Kumho Petrochemical as the preferred bidder in the sale of its shareholdings in subsidiaries Kumho Resort and Kumho Holdings, it states in separate corporate disclosures dated 20 January.
Asiana first indicated on 7 October that to review the sale of Kumho Resort, it signed an advisory service contract between Asiana IDT, Kumho T&I, Asiana Sabre, Asiana Airport, and NH Investment & Securities on 29 September.
On 16 November, Asiana disclosed that its board approved the sale of the Hong Kong-incorporated Kumho Holdings. Then, the airline group said in a same-day statement that the entity is 39.3%-owned by Asiana Airlines while Kumho Resorts holds another 46.7% interest. The remaining 14% is owned by Kumho Trading.
Asiana also said it expects to get a better price from selling both Kumho Resort and Kumho Holdings, versus a separate sale of its shares in Kumho Holdings.
It stated in the 16 November disclosure: "If [Asiana's] shares in Kumho Holdings (HK) are not sold together [with shares in Kumho Resort], the company remains a minority stakeholder in Kumho Holdings (HK) after the sale of Kumho Resort is completed, and management [cannot exercise its shareholder rights]."
Kumho Trading's website states that it is a member of Kumho Petrochemical Group, alongside Kumho Petrochemical.
According to Asiana's latest audit report for 2018, released in May 2019, Kumho Holdings is an investment holding company that is 39.28% owned by Asiana while Asiana's subsidiaries own another 46.67%. Kumho Resort, in the business of resort management, is 100%-owned by Asiana's subsidiaries, which based on footnotes in the report, appear to include Asiana Sabre, Asiana Airport, and Kumho T&I.
The same report states that Asiana IDT, Asiana Sabre, and Asiana Airport are among Asiana's subsidiaries, and their main business is IT services, reservation service, and airport services, respectively.
Kumho Resort and Kumho T&I are subsidiaries of Asiana's parent company Kumho Industrial. While Asiana does not directly hold shares of these entities, they are included as the airline's subsidiaries due to indirect shareholdings via its other subsidiaries, the 2018 audit report states.