A second tranche of financial aid for US airlines is integral for the health of the industry, New York-based JetBlue Airways president and chief operations officer Joanna Geraghty says.
Speaking at the virtual World Aviation Festival on 24 September, Geraghty says that all airlines are showing "tremendous support" for additional aid, and concerned about economic ripple effects when the current tranche introduced at the beginning of the global pandemic expires a week from today.
"We are cautiously optimistic that the government will do the right thing and recognise the importance of the aviation industry," she says. "Without all the jobs in the airline industry, it's hard to see the economy recover in a meaningful way."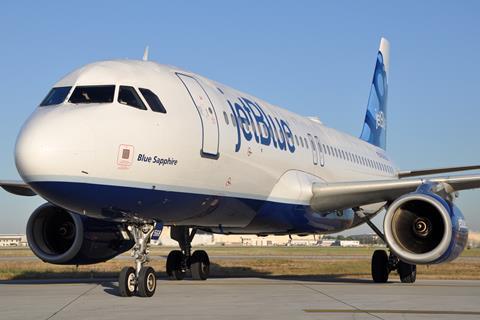 Earlier this week, two US Senators introduced a bill that would provide airlines with another $28.8 billion in funds earmarked for employee expenses incurred through March 2021. But the current political climate in Washington could hinder the passage of further aid.
"Unfortunately, the dynamic in Washington, DC has really created an environment where our hopes are still there…[but] it's not looking as positive as it was its going to be," Geraghty says, adding it that it will be "a tough, tough road."
The new bill, introduced on 22 September, includes provisions similar to those in the US government's initial airline-relief package, part of a $2 trillion broader pandemic-assistance law signed by President Donald Trump in March.
Airlines, industry groups and unions have been clamouring for additional payroll support, warning of mass layoffs when the first law's layoff prohibition expires at the end of September.
The previous law made $58 billion available to airlines, including $29.3 billion set aside for airline employees – the "Payroll Support Program" – and another $29 billion in loans and loan guarantees.
Unlike the first law, the new bill, called the "Air Carrier Worker Support Extension Act of 2020", includes only payroll support, not loans.
Most US airlines have already sent out thousands of so-called WARN letters – federally required 60-day notices to employees at risk of losing their jobs. Tens of thousands of aviation employees are set to lose their jobs after the requirements of the initial financial aid expire at the end of September.
Of those, about 10,000 pilots are set to be laid off or furloughed.
JetBlue, however, was an early outlier, saying in July it reached an agreement with its pilots' union that protects all JetBlue pilots from involuntary furloughs – under any circumstance – until 1 May 2021.
The low-cost carrier is betting that leisure travellers will return in greater numbers, and wants to "remain nimble", Geraghty says. Earlier this month, JetBlue launched 24 new domestic and international routes – an effort to benefit from shifting travel demand.
"We know that there's quite a bit of pent-up demand for travel," Geraghty says. "We are seeing shifting customer perceptions - even during the pandemic… Those customers who experience flying are willing to fly again if they have had a safe journey."
She adds that when an effective vaccine becomes widely available, "we expect demand to come back very quickly".
ONGOING RESTRICTIONS
Making all of this more complex is the fact that individual US states and some foreign countries, including Canada, maintain strict travel restrictions that make planning travel difficult. Customers face varying restrictions related to arriving at destinations and returning home.
A possible solution could be a type of globally accepted "health passport", showing the person has been immunised with a vaccine that is acceptable to the particular destination jurisdiction, and is arriving at that destination Covid-free.
"A health passport has a possibility of becoming an important component of travel," Geraghty says, though there are privacy concerns that still need to be worked through.
"That will probably be considered by government as a means to enter, but [for] airlines that's a tough topic, given the privacy considerations," she adds.