SkyWest Airlines saw revenue and block hours rise as demand for regional services increased during the first quarter.
The St George, Utah-based carrier, which flies regional routes for American Airlines, United Airlines, Delta Air Lines and Alaska Airlines, says that revenue climbed 38%, to $735 million from $535 million in the same quarter in 2021.
Operating expenses also rose by half, to $683 million from $454 million last year, leaving the airline with a decline in profit, at $17.7 million. SkyWest posted $35.9 million in profit during same three months a year earlier.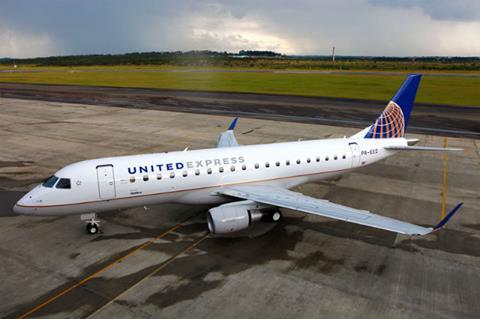 "Demand for our product remained strong during the first quarter and we were able to generate results slightly ahead of our expectations," says chief executive Chip Childs.
The airline's total block hours during the quarter rose to 310,993 from 276,182 in the same quarter a year ago, the company adds.
"We continue working through an imbalance of pilots, which is our current constraint in monetising the exceptionally strong demand for our product," says Childs.
The pilot shortage is hitting regional carriers like SkyWest particularly acutely, as these airlines tend to pay lower salaries than major carriers, and operate smaller aircraft on shorter routes. Many professional pilots begin their careers at a regional carrier but then transfer over to a legacy airline.
That leaves many openings for senior positions at the regional level.
Childs says the main problem for SkyWest is that younger first officers need experience and flight time to be able to transfer into a captain seat.
"This is not a training capacity problem," he says. "We are not going to be constrained in any of the simulators or facilities, or anything of that nature. This is making sure we get the experience for the first officers to upgrade."
FLEET ADDITIONS
For the carrier's American Airlines fleet, SkyWest expects two Embraer 175 aircraft to be placed in service during the second quarter of 2022. All told, SkyWest had seven aircraft in scheduled service as of Q1 2022 and 13 aircraft are expected to be placed into service by the end of 2022 for that airline.
At Delta, 16 E175s will be delivered in the second half of 2022. They are expected to be placed into service by early 2023, and will replace older Bombardier CRJ900s.
The Alaska Airlines operation took four E175 aircraft in the first quarter, with six more anticipated in the second quarter, and one in the first half of 2023.
Combined, SkyWest anticipates placing 47 E175 aircraft into service under these previously announced agreements by early 2023. As of the end of March, 22 aircraft were delivered and 25 aircraft have deliveries scheduled through early 2023, the company says.
With all of these additions, SkyWest will be operating 240 of the type by the end of the year.
All told, the company had 513 aircraft in its fleet at the end of the first quarter - 215 E175s, 44 CRJ900s, 114 CRJ700s and 140 CRJ200s.