Southwest Airlines, the last of the four major US airlines to report third-quarter results, posted a record loss for the period but remains optimistic that the worst of the downturn has passed and that demand is rebounding.
The Dallas-based airline lost $1.2 billion in the three months ending in September, compared to a $659 million profit in the same period last year. That brings the company's losses for 2020 to more than $2.2 billion.
Southwest's revenue fell 68% year-on-year in the third quarter to $1.8 billion.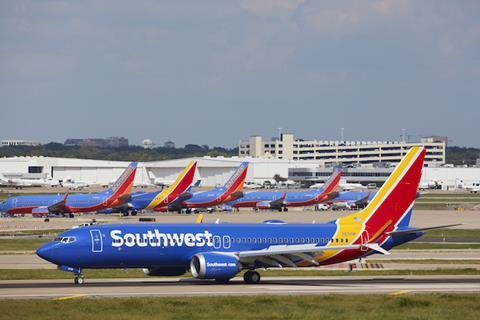 "The record loss was significantly less than I had feared three months ago. We got past the July wobble in demand, and our outlook for [the fourth quarter] reflects this improvement, assuming October trends hold," says Gary Kelly during the company's quarterly earnings call.
"The worst may be behind us, I hope there are no more surprises. And yes, we still have a long way to go," he adds.
The airline reduced its average daily cash burn to $16 million during the third quarter, and plans to shrink that number to $11 million by the end of the year. Break-even will only come when operating revenue returns to 60-70% of pre-pandemic levels, or double third-quarter 2020 revenue.
Leisure travellers, traditionally the carrier's primary segment, seem to be returning in small increments, the airline says. Still, it expects passenger demand to "remain fragile" until availability of a widely-accepted coronavirus vaccine.
To alleviate the negative financial impact from lack of demand, Southwest announced a major policy change regarding the sale of middle seats. It had been blocking them to promote social distancing on board, allowing customers a bit more space.
Now Southwest says it will end the practice on 1 December to "align with science-based findings from trusted medical and aviation organisations".
Several studies published in recent days have shown the risk of catching coronavirus onboard an aircraft are exceedingly low. Southwest's move stands to leave Delta Air Lines the only of the four major US carriers to continue blocking seats into next year.
Business-travel demand remains weak, and could stay that way "well into 2021", says Southwest president Tom Nealon. While about 90% of the airline's corporate accounts have returned to air travel, the number of business-travel trips remains low.
"There very well could be a 10-20% structural reduction in business travel coming out of Covid that could take several years to rebuild," Nealon says.
FLEET DECISIONS
Southwest ended the quarter with 734 aircraft in its fleet, of which more than 100 were in long-term storage, the airline says. That number includes 34 of the grounded Boeing 737 Max.
Southwest executives say they are closely monitoring the progress Boeing is making with the Federal Aviation Administration to re-certificate the type – a milestone Boeing hopes to reach by year-end.
But Southwest does not expect to resume Max flying until the second quarter of 2021, at the earliest. The Max has been grounded for more than 18 months after two accidents killed 346 people.
The type's return will be "deliberate and structured, and we expect it to be three to four months from un-grounding to revenue service", says chief operations officer Mike Van de Ven, citing maintenance and pilot training requirements.
Southwest has 233 Max on order with Boeing, according to Cirium fleets data. Of those, 34 have been built.
The all-Boeing carrier has often expressed interest in adding a smaller aircraft to its fleet. While Southwest holds orders for 28 of the smaller 737 Max 7, executives say they are looking at other candidates, including Airbus A220s.
"If there were ever a scenario for us to consider making a change in aircraft, it would be now, because we're not desperate to grow the airline, and may not be for a long time," CEO Kelly says. "We absolutely do need the smaller airplane. We have a ton of 737-700s that are coming up for retirement in the next several years."
"We have long been an all-Boeing carrier and there are certainly efficiencies that come with that," adds chief financial officer Tammy Romo. "All that [will be] factored into that evaluation."
"We will need [a smaller aircraft] to fly those shorter to medium-haul markets, and we will make sure that we have economics that will serve us well," she adds.
Southwest will make a fleet decision in the next year, with potential deliveries of new jets from 2025, Van de Ven says.
NEW DESTINATIONS
Last week, Southwest said it will begin serving Chicago O'Hare International and Houston's George Bush Intercontinental airports – airfields in cities Southwest already serves from other airports.
The move, which comes as the carrier adapts to the coronavirus downturn, marks a major strategy shift. The airline had long eschewed O'Hare and Intercontinental in favour of serving smaller Chicago Midway International and Houston's William P Hobby airports, which are closer to the cities' centres.
The airline has not said which destinations it will serve from the airports.
"We have been thinking about Houston for quite some time," Kelly says. The airline, which pulled out of Intercontinental in 2005, "has come a long way in 15 years… It felt like at some point we wanted to get back to Bush."
Chicago is different.
"Trying to expand Midway is not a feasible option. Nothing could happen in a short period of time and it would cost a bloody fortune," he says. "O'Hare was real-estate restricted, and now its not. If we don't move now we risk never getting in there."
FURLOUGHS
Earlier this month, Southwest announced it would cut employee pay across the company – an effort to prevent furloughs through the end of 2021. The airline was one of a handful which did not furlough employees when the US government's payroll support programme (PSP) expired at the beginning of October.
PSP, part of the US government's financial aid package, had prohibited layoffs through September, when it expired.
"As the pandemic and its devastating effects on our industry continue, we urge our federal leaders to pass an economic relief package that includes a clean, six-month extension of the PSP, to further protect jobs and crucial air travel," Kelly says.
Unions have joined airlines and trade groups in lobbying lawmakers in Washington, DC for an extension of the relief for another six months.
Legislators are still discussing a potential extension to the aid, but both sides seem far apart on an agreement.
"Absent this extension, we simply cannot afford to continue with the conditions required to maintain full pay and employment," Kelly adds.