Southwest Airlines has warned 6,828 employees that their jobs may be at risk, the first large-scale involuntary furlough scheme at the company since the beginning of the coronavirus crisis.
That number represents almost 12% of the airline's nearly 58,000 employees, as per the Dallas-based carrier's website.
Southwest says on 3 December that the furloughs will affect numerous work groups and take place between 15 March and 1 April "unless Southwest reaches cost-saving agreements or the government enacts a satisfactory payroll support programme extension".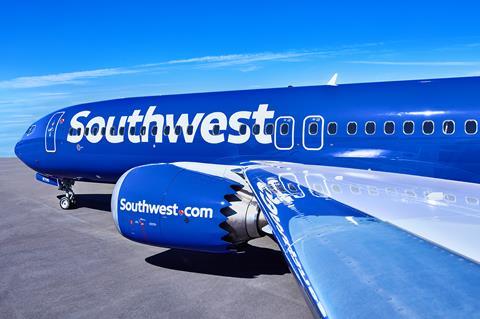 "We have been engaged with our unions since early October, seeking temporary cost reductions to help offset over one billion dollars of overstaffing costs projected for 2021," says Russell McCrady, the airline's vice-president of labour relations.
"Our absolute goal is to preserve every job at Southwest Airlines. However, due to a lack of meaningful progress in negotiations, we had to proceed with issuing notifications to additional employees who are valued members of the Southwest family," he adds.
By work group, Southwest says it issued so-called "Worker Adjustment and Retraining Notifications" (known also as WARN) notices to: 2,551 ramp and operations agents, 1,546 customer service and support agents, 1,500 flight attendants, 1,221 pilots, six flight instructors and four flight-simulator technicians.
In November, the carrier had sent WARN letters to 42 material specialists – employees who oversee inventory management for the Technical Operations Team. Those furlughs are due to kick in in January 2021.
The WARN notices are a required first step in announcing to large work groups that mass layoffs are imminent. According to US law, employers must give affected employees at least 60 days' prior notice that their jobs are in danger.
'SAD MILESTONE'
Pilot union SWAPA calls the furloughs "a sad milestone" in the history of the company. The airline had always prided itself for never having had to introduce involuntary layoffs or furloughs.
"While this development is not completely surprising, it is incredibly disappointing to our pilots and their families," union president Jon Weeks says in a video message to the organisation's members on 3 December.
He adds that SWAPA has offered "several solutions" but the company's labour relations management team has rejected all of them.
Most major US airlines received some of the $25 billion in government aid enshrined in the CARES Act, passed by Congress in March to help alleviate the effects of the industry downturn as the coronavirus tore across the globe. Southwest's share to support payroll costs was $3.2 billion. In return for the financial relief, airlines pledged no involuntary furloughs before 1 October 2020.
While peers American Airlines and United Airlines furloughed more than 30,000 workers when that aid ran out, Southwest did not furlough any. In October, airline executives announced a plan to cut employee pay across the company in an effort to prevent furloughs through the end of 2021.
Still, chief executive Gary Kelly said at the time, "Absent [an] extension [of the aid], we simply cannot afford to continue with the conditions required to maintain full pay and employment".
Though unions teamed up with companies and trade groups to lobby for a further bill to extend payroll support, lawmakers in Washington, DC have not reached a subsequent deal.
Earlier this week, a bipartisan group of 30 members of Congress put forward additional financial support legislation worth $908 billion, of which $17 billion is reportedly earmarked for the aviation industry. There is no word on whether or when that deal might be approved.