Spirit Airlines and Frontier Airlines have agreed to end merger discussions but Spirit continues to negotiate with JetBlue Airways.
The proposal's fate was sealed following a shareholder vote on 27 July that had been delayed four times.
"Spirit Airlines and Frontier Airlines have agreed to terminate the merger agreement effective immediately," an unidentified Spirit official said during a shareholder meeting after the vote.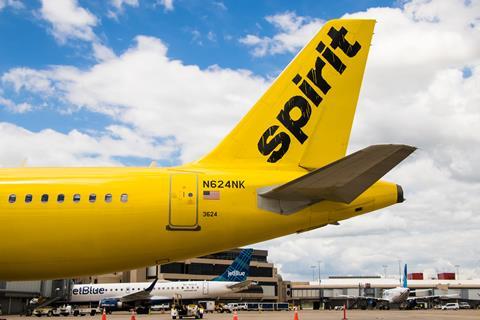 The official added that Spirit continues discussing a possible acquisition by JetBlue.
Spirit chief executive Ted Christie says he is "disappointed" that the Frontier acquisition fell through.
"The Spirit board of directors will continue our ongoing discussions with JetBlue as we pursue the best path forward for Spirit and our stockholders," Christie adds.
The tug-of-war for Spirit Airlines began in February when Denver-based low-cost peer Frontier and Spirit announced they would combine. The plan called for Frontier to acquire Spirit through a cash-and-stock deal, creating the fifth-largest US airline.
Two months later, JetBlue stepped in with a competing, higher-priced offer to acquire Spirit. Spirit's board opposed JetBlue's deal, saying JetBlue would face significant pushback from regulators on antitrust grounds.
In response, JetBlue appealed directly to Spirit's shareholders, urging them to vote against a Frontier-Spirit combination.
Since then, the airlines have traded acidic barbs over the potential transactions, with JetBlue claiming Spirit failed to fully consider its proposal. JetBlue and Frontier sweetened their offers in recent weeks, including by adding reverse-termination fees, payable if their deals fell through.
Throughout the process, Spirit's leaders have continued to favour Frontier's agreement.
Frontier is holdings its second-quarter earnings call today, during which officials will likely respond to the decision.