Spirit Airlines' board of directors has green lighted JetBlue Airways' acquisition proposal, a radical reversal from Spirit's previous plan to be bought by Frontier Airlines.
The agreement calls for New York-based JetBlue to purchase Spirit, based in Miramar, Florida, for at least $3.6 billion.
The airlines aim to close the sale by the first half of 2024, though the deal requires approval by antitrust regulators and Spirit's shareholders.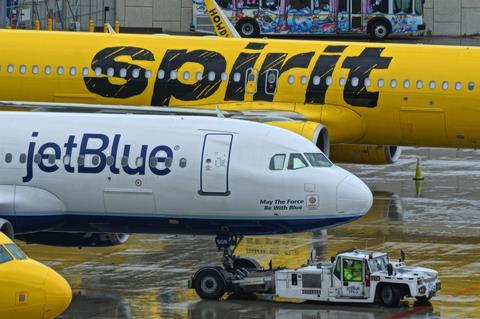 Spirit chief executive Ted Christie says his airline is "thrilled to unite with JetBlue", adding that, by combining, the carriers can "create the most-compelling national low-fare challenger to the dominant US carriers".
"We look forward to working with JetBlue to complete the transaction," he adds.
Until today, Christie had repeatedly opposed JetBlue's offer to acquire Spirit, saying instead that Spirit would have better luck under another proposed acquisition by Denver-based Frontier.
Christie long maintained that a Spirit-JetBlue combination faced a much tougher road to antitrust approval than would a combined Frontier-Spirit.
But following a vote by Spirit shareholders on 27 July, Spirit abruptly reversed course.
JetBlue's $3.6 billion purchase offer is based on it paying $33.50 per share for Spirit. However, JetBlue says it could pay up to $34.15 per share "depending on the timing of the close," which would equate to a total purchase price of $3.7 billion.
JetBlue chief executive Robin Hayes says acquiring Spirit "turbo-charges our strategic growth" and will create the USA's fifth-largest airline. That heft will enable the combined company to better counter large US carriers American Airlines, Delta Air Lines, Southwest Airlines and United Airlines, he says.
"We believe we can uniquely be a solution to the lack of competition in the US airline industry and the continued dominance of the Big Four," Hayes adds.
Frontier kicked off the bidding for Spirit in February, then JetBlue submitted a counter offer in April.
While Frontier intended to use Spirit to create a much-larger ultra-low-cost airline, JetBlue's plan called for using Spirit's assets to grow the JetBlue mid-cost airline model. JetBlue's costs and fares fall between those of ULCCs and legacy airlines, and JetBlue markets itself as providing a high-value product at a discounted, but not rock-bottom, price.
Frontier, JetBlue and Spirit all operate Airbus A320-family aircraft.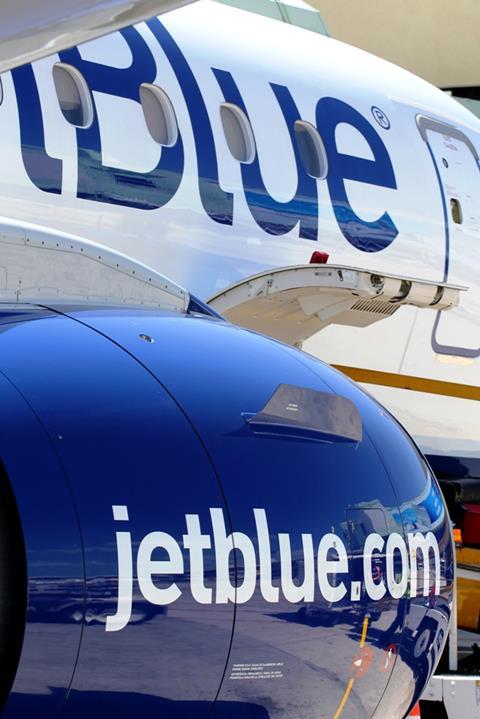 In recent months, Frontier and JetBlue one-upping each other, sweetening their offers to win favour from Spirit's shareholders. Frontier's most-recent offer had been to buy Spirit for cash and stock valued at about $2.8 billion.
Spirit's shareholders voted on whether to approve the Frontier deal on 27 July. That same day, Spirit disclosed it was ceasing discussions with Frontier.
If approved, the combined JetBlue-Spirit will operate some 460 aircraft. Spirit currently operates 177 Airbus A320-family jets, while JetBlue flies 282 aircraft, including A320-family jets, A220s and Embraer 190s.
Spirit also holds unfilled orders for 150 A320neo-family jets and JetBlue has orders for 63 A321neos and 89 A220s.
A JetBlue-Spirit combination still faces an uncertain path to approval by the US Department of Justice (DOJ). The administration of president Joe Biden has taken a strong stance against green lighting deals that might be perceived as anti-competitive.
The plan is already receiving union pushback.
"We believe that workers and airline passengers should be concerned," says John Samuelsen, president of Transport Workers Union, which represents JetBlue flight attendants. "The DOJ must look closely at JetBlue's business model and how that airline is being run, and consider the negative impacts a takeover could have on it workforce and customers."