Sun Country Airlines reported a $20.6 million profit for the second quarter of 2023 as all three business segments – scheduled passenger service, charter and cargo – posted increases.
The Minneapolis, Minnesota-based carrier said on 3 August that revenue during the three months that ended on 30 June rose to $261 million, up 19% from $219 million in the same period last year.
Expenses during the period rose slightly to $225 million, up from last year's $216 million.
For the first half of 2023, the company said it earned a $58.9 million profit, on revenue of $555 million, up 25% from last year's $445 million.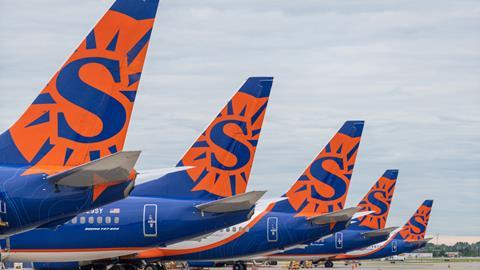 "During the quarter, revenue growth continued across our scheduled service, charter and cargo businesses, and the second quarter was our eighth consecutive quarter where year-over-year total revenue growth has exceeded total block hour growth," said Sun Country chief financial officer Dave Davis.
The company's block hours rose by 11.3% during the second quarter, led by charter, which rose 23.9%. About 87% of the company's charter flying is under long-term contracts, Sun Country says.
"As the company continues to normalise its aircraft utilisation, it intends to pursue more ad-hoc charter flying."
Scheduled passenger service block hours rose 7.4% and cargo rose 10.4%.
At the end of June, the company had 43 passenger aircraft in its all-Boeing 737 NG fleet, operated 12 freighter aircraft in its cargo operation, and had five aircraft held for operating lease.
For the third quarter, Sun Country expects to achieve revenue of $240 million to $250 million, or 8%-13% over last year's third-quarter figures. Total system block hours are expected to be 13%-16% higher than during the third quarter of 2022.
The company will hold an analyst call on 4 August to further discuss its second-quarter results.