WestJet has extended its temporary suspension of flights to southern destinations until 4 June as the Canadian air travel industry continues struggling with the coronavirus crisis.
The Calgary-based carrier says on 13 April that it expects the vaccination roll-out in that country will prompt the Canadian government to ease strict travel restrictions, many of which have been in force since March 2020.
"We are extending our suspension with the clear expectation that as more Canadians are vaccinated, government policy will transition," says the carrier's chief executive Ed Sims. "We remain focused on a long-term solution that will serve the best interests of Canadians."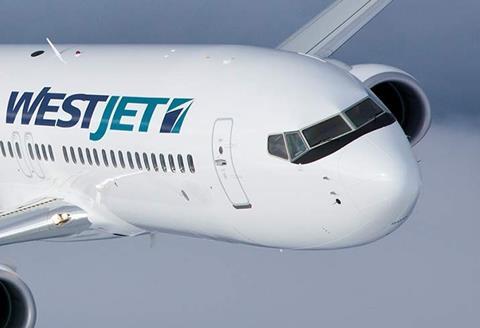 In January, the Canadian government asked all of that country's airlines to suspend flights to destinations traditionally popular with travellers during the important spring break holidays through 30 April. That put a damper on carriers' first-quarter revenue expectations, following an already difficult year.
In addition, Canada introduced a strict testing and quarantine regulation – including a three-day mandatory stay at a government-approved hotel (paid by travellers) upon return to the country.
WestJet says it is lobbying lawmakers to find alternatives to this rule.
"We continue to advocate for the replacement of mandatory hotel quarantines with a testing regime that is equitable and consistent with global standards at all points of entry into our country," Sims says. "Alongside an accelerated and successful vaccine rollout, this policy transition will support the safe restart of travel and help stimulate the Canadian economy, where one in ten jobs are tourism-related."
Airlines in Canada have struggled in the past year after business declined precipitously as a result of restrictions – both federal and provincial – that made travel difficult and complicated. In the pandemic's first year the government did not set aside sector-specific aid other than the Canada Emergency Wage Subsidy (CEWS), which offered companies limited payroll support.
That changed this week when market leader Air Canada said on 10 April that it accepted a C$5.9 billion ($4.7 billion) bailout deal from the government. The agreement includes loans as well as an equity stake worth $500 million.
In return, the airline has promised to refund fares to customers that it had previously not refunded, serve domestic destinations to which it had suspended flights, and limit executive compensation, dividend payouts and share buybacks.
The Canadian government said it was also having "good … constructive" conversations with other airlines about financial relief packages, including WestJet.
WestJet responded on 10 April by saying it continues to work with the government "on a safe travel-restart framework".
"The WestJet Group continues to operate self-sufficiently with the exception of the Canada Emergency Wage Subsidy (CEWS), which flows through directly to our employees," WestJet said. "We have already communicated we will restore service to all 42 airports that we served pre-Covid and did so at our earliest opportunity."
The airline laid off an additional 415 pilots at the beginning of April. At the time, Sims faulted the government for not supporting the country's air transport industry as other governments, including those in the USA and many European nations, have.