WestJet and its pilots are ratcheting up their labour conflict ahead of what is anticipated to be a busy travel weekend – the first of the upcoming travel season.
The Air Line Pilots Association, International (ALPA) on 15 May said it gave a 72h strike notice to the airline and Canadian government, a move the union says allows cockpit crew to start disruptive labour action from early on 19 May.
In response, WestJet has threatened to lock pilots out.
"After nine months of negotiating, management still fails to understand today's labour market conditions, leading to a mass exodus of our pilots in search of better work opportunities – and more will follow if this agreement does not meet our pilots' needs," says Bernard Lewall, chair of ALPA's WestJet group, which represents pilots at WestJet and the company's Swoop subsidiary. On average, a pilot leaves the company every 18h, he says.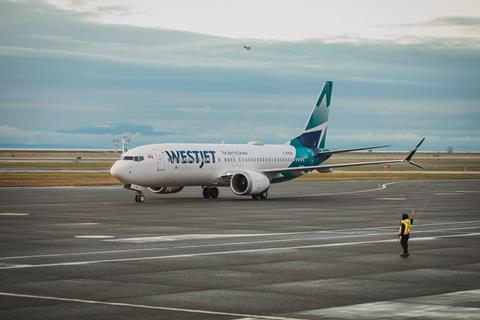 "Without the economic and job security improvements our pilots require, WestJet will be parking planes, as they will not have enough pilots to operate them or accomplish [their] own growth strategy," Lewall adds.
In addition to job security, the union is seeking higher pay and more flexible schedules to allow for an improved work-life balance.
ALPA warns the strike could force WestJet to ground all its aircraft ahead of what is anticipated to be a busy travel weekend. Canadian federal holiday Victoria Day is on Monday, 22 May.
WestJet, meantime, has issued a lockout notice.
"The decision to issue a lockout notice in response to the actions taken by the union today was not one that was made lightly, and we sincerely regret the inconvenience and uncertainty this continues to cause for our guests," says chief executive Alexis von Hoensbroech.
"It is our responsibility to ensure the safety and complete control of our network at all times, to minimise the risk of stranding our guests, our crews and our aircraft," he adds. "Our commitment and priority remains at the bargaining table, where we will continue to work around the clock to come to a reasonable agreement as soon as possible in an effort to prevent labour action."
WestJet maintains it is offering a "generous contract that, if agreed to, will make its first officers and captains the highest-paid narrowbody pilots in Canada". It said the agreement also addresses pilots' concerns about job security.
"Despite efforts to be reasonable and provide significant improvements to the current contract, the union maintains its expectation of closing in towards US-like wages, despite living and working in Canada," WestJet says. "This expectation is not reasonable and is impeding the WestJet Group's ability to reach an agreement in advance of the upcoming long weekend."
WestJet and its pilots will continue negotiating during the notice period, but the airline says it is preparing for a strike. Should the two sides not reach an agreement, the airline said it will operate a "reduced schedule" and provide "flexible change and cancel options for those who wish to make alternate arrangements".
Earlier this month, WestJet acquired competing discount carrier Sunwing Airlines, completing a deal that had raised competitive concerns but that WestJet insists will benefit travellers. The deal also brings Sunwing's vacation business into WestJet's portfolio.