Wichita airframe manufacturer Spirit AeroSystems will suspend production of Boeing 737 fuselages in January 2020 in what amounts to a massive fallout from the grounding of the 737 Max.
"Boeing directed the company yesterday to stop all 737 Max deliveries to Boeing effective Jan 1, 2020, due to Boeing's announced temporary suspension of 737 Max production." Spirit says in a 20 December media release. "Spirit will continue to communicate with Boeing regarding the timetable for resuming production."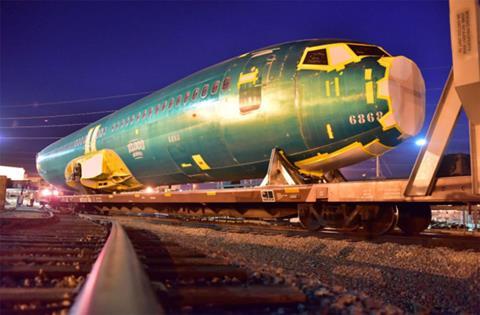 Spirit did not respond immediately to questions about whether it intends to lay off or furlough staffers.
The news comes several days after Boeing disclosed plans to suspend 737 production in January due to the unsettled nature of the regulatory process for clearing the Max to fly.
The Federal Aviation Administration has given no timeline, but analysts suspect the clearance will come within the first several months of 2020.
"Because revenue from 737 aircraft components represents more than 50% of Spirit's annual revenue, this suspension will have an adverse impact on Spirit's business, financial condition, results of operations, and cash flows," Spirit's release says.
Spirit, which generated $7.2 billion in revenue last year, says it will disclose additional financial information related to the production suspension early next year when it releases 2019 earnings.
The company says it is "evaluating all potential actions to align its cost base with lower production levels expected in 2020. Decisions will be guided by a focus on what is best for the long-term interests of Spirit's stockholders and other stakeholders, including employees."
Aerospace analysts fear Boeing's suspension of production may have a serious negative effect on its massive supply chain. They say Boeing needs to ensure the supply chain remains healthy enough to resume production once the grounding lifts, and eventually to boost production further.
Until now, Spirit has been producing 52 737 airframes monthly despite the grounding, which has been effective since March.
Boeing in April cut its 737 production from 52 to 42 737s monthly, but kept buying Spirit fuselages at the higher rate. That was aimed at reducing the financial impact on Spirit and keeping its manufacturing and supply system healthy.
Still, Spirit has sought to shore up its financials amid the grounding. In May it stopped share repurchases and unveiled a plan to cut costs by $50 million in 2019, accomplished partly by delaying infrastructure projects. It has also taken cash advances from Boeing.
Another major supplier, CFM International, which makes the Max's Leap-1B turbofans, has not disclosed any change in engine manufacturing rates.