Spirit AeroSystems, supplier of Boeing 737 fuselages, will lay off 2,800 workers this month and make additional cuts in the coming weeks in response to Boeing's halt of 737 Max production.
The initial 2,800 cuts affect workers in Wichita and represent 22% of the company's 13,000-strong Wichita workforce, Spirit says.
The affected staffers will start leaving the company on 22 January.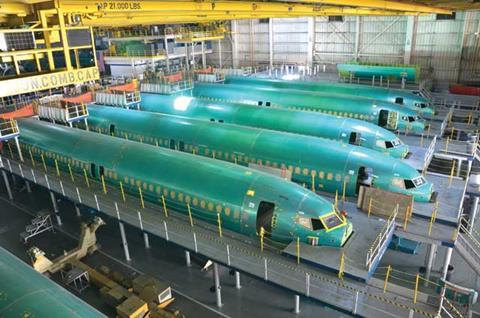 "Spirit is taking this action because of the 737 Max production suspension and ongoing uncertainty regarding the timing of when production will resume and the level of production when it does resume," says Spirit in a media release.
The company also anticipates Boeing will resume 737 production at a lower level than previously been expected. That is due to Boeing's need to deliver hundreds of Max now in storage. Spirit also has more than 100 undelivered Max fuselages at its facilities, it says.
Spirit plans to "implement smaller workforce reductions later this month" in Tulsa and McAlester, Oklahoma, it adds. "Based on final production rates agreed with Boeing, Spirit may have to take additional workforce actions in the future."
The company, which employs about 18,000 workers globally, has been particularly hammered by issues affecting the 737 Max. Spirit is halting 737 fuselage production this month in response to Boeing's temporary suspension of 737 Max production.
Spirit makes about 70% of the Max's structures, and the Max programme accounts for more than half of Spirit's revenue, which was $7.2 billion in 2018, according to securities filings.
Spirit's products include the Max's fuselage, thrust reversers, engine pylons and wing components.
"We are taking these actions to balance the interests of all of our stakeholders as a result of the grounding of the 737 Max, while also positioning Spirit to meet future demand," chief executive Tom Gentile says in the release.
"We continue to work with Boeing to develop a new production schedule for 2020 with an eye toward minimising disruption, maintaining the stability of our production capabilities, and best positioning Spirit for the future," Gentile adds. "When production levels increase sufficiently in the future, we look forward to recalling employees impacted by today's announcement."
In addition to layoffs, Spirit has transferred 737 Max workers to other programmes, it says.