China's Avic has begun test flights involving its in-development AG600 amphibian aircraft for firefighting capabilities, following its first successful flight over sea last year.
The AG600, which is powered by locally-produced Dongan WJ-6 turboprops, completed a flight to test its aerial water-dropping function in China's Hubei province on 4 March, states local media reports.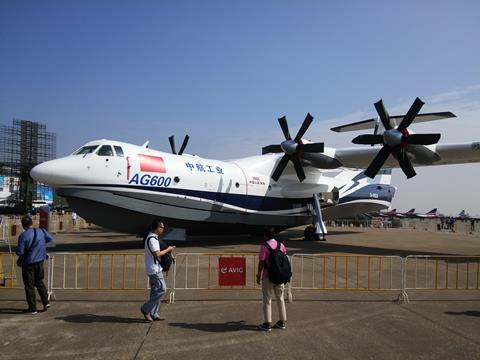 Avic was also quoted by state media as saying that it expects to conduct water-dropping test flights over fire sites before the end of the year.
The AG600 will undertake a range of missions, and its target market is domestic parapublic organisations. Its main functions are search and rescue and transport, but it can also serve as a water bomber.
State media have hailed the latest stage of testing as a "major step forward" for the programme, which is reported to help "strengthen [China's] natural disaster prevention and emergency rescue capabilities".
In April 2020, the amphibian aircraft entered a new testing stage, embarking on flights over the sea. It followed a 2018 test flight taking off from China's Zhanghe Reservoir, and the type's 2017 maiden sortie.