Boeing has identified another manufacturing issue related to the 787s vertical stabliser, the fourth manufacturing problem to come to light in recent weeks.
The new issue relates specifically to shims in a section of the 787's vertical stabiliser, says the airframer.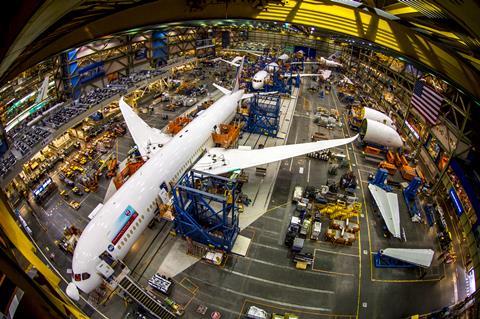 "In late 2019 we discovered a nonconformance related to shims in a section of the 787 vertical fin, and notified the FAA," says the airframer.
"Our engineers conducted a thorough analysis and found it did not pose an immediate risk to safety of flight and therefore did not require immediate action. The issue has been contained for all airplanes in production. We are working with the FAA to finalize guidance for the in-service fleet."
Boeing adds that it continuously assesses aircraft safety. It expects that the vertical stabiliser issue will only require a one-time inspection during regularly scheduled maintenance.
The other three recently-revealed issues involve extra force used when clamping the aircraft's horizontal stabiliser, the use of improperly sized shims on some aircraft, and some aircraft with sections of skin that fail to meet flatness specifications.
When the shim and skin flatness issues are found in the same location in a specific aircraft, this creates a situation where load limits are not met. This saw eight 787s removed from service.
Boeing's initial grounding order, first disclosed by The Air Current, related to eight 787 aircraft operated by Singapore Airlines, United Airlines, and Air Canada. All Nippon Airways also told FlightGlobal that one of its 787-10s was taken out of service.
The FAA recently disclosed that it is investigating manufacturing flaws for certain 787s.