Rolls-Royce has completed inspections of high-cycle Trent XWB-84 engines for premature wear on intermediate-pressure compressor blades, but has yet to fully determine the cause.
Chief executive Warren East said during a results briefing on 11 December that "early signs of wear" on first-stage IPC blades had been found on "around 20%" of engines in the affected age bracket. He notes that the proportion is similar to early findings disclosed by the UK manufacturer in August.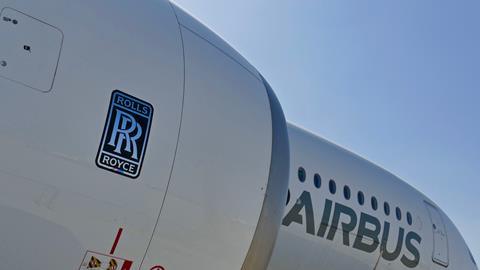 Rolls-Royce said then that it had unexpectedly found the issue during routine inspections on a "small" number of engines, aged four or five years, which were nearing their first scheduled shop visit.
East says "most" of the affected engines have been refurbished and returned to customers, and that the issue has not caused disruption for airlines as "ample" spares are available.
"The root-cause investigation [of the issue] and testing is still proceeding. But it has progressed as planned," East adds.
In August, Rolls-Royce noted that none of the affected engines had experienced abnormal in-flight operation.
The Trent XWB is the sole engine available for the A350. Trent XWB-84s are used on the A350-900, which entered service in 2015. The larger A350-1000, which entered service in 2018, is equipped with Trent XWB-97s.
Meanwhile, testing of a modified high-pressure turbine blade for Trent 1000-TEN engines is continuing. East says Rolls-Royce is "on track" to start installing the modified HPT blade – one of three affected by premature deterioration, across different sections and different versions of the powerplant – by the middle of 2021.
Modification of Trent 1000s caused severe disruption for Boeing 787 operators in recent years as aircraft had to be grounded due to a lack of spare engines.
East says Rolls-Royce has this year built up "sufficient spare engine capacity", noting that the downturn "helped a bit" to clear the backlog of 787s on ground.
"If all Dreamliners took to the air tomorrow, we would be fine to maintain that zero-aircraft-on-ground position," he says.