Russian airframer Irkut has completed strength testing of the MC-21 wingbox, constructed from domestic composites, demonstrating that its performance corresponds to analytical predictions.
Irkut conducted the maiden flight of the MC-21-300 with a Russian composite wing on 25 December last year. The aircraft involved was numbered 73361.
Testing of the wingbox – manufactured by Irkut subsidiary AeroKompozit – was carried out at the Central Aerohydrodynamic Institute.
State technology firm Rostec says the wingbox must demonstrate that it can withstand design loads during static testing
It adds that the wingbox was loaded to destruction to verify its ultimate strength, and that this "exceeded" the crucial threshold of 1.5 times maximum load in operation.
"Planned destruction of the wingbox occurred in deliberately-created specific climate conditions," says Rostec.
"In order to take into account the effect of high temperature on the strength capacity of the composite material, part of the wing structure was heated."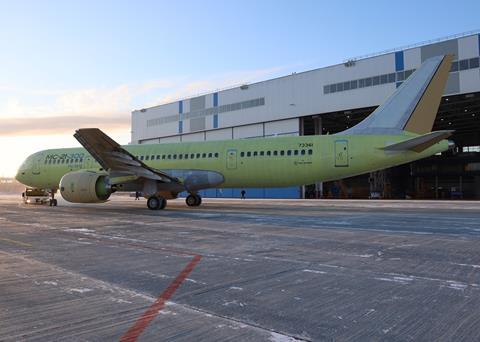 United Aircraft general director Yuri Slyusar says: "This successful trial confirmed that the methods for calculating the strength capacity of composite products are correct.
"The experiments prove that the wingbox – the main bearing part of the wing – ensures stability and safety in the most adverse flight conditions."
All MC-21s undergoing assembly will be built with wings from Russian composite materials, which were created with the assistance of Rosatom and the Moscow state university.
Central Aerohydrodynamic Institute director general Kirill Sypalo says the experimental base at the facility has enabled it to carry out a "huge amount" of testing for the MC-21 in co-operation with Irkut.