Russia's United Engine is preparing to start testing the first prototype core of the Aviadvigatel PD-8 powerplant intended for the Sukhoi Superjet 100.
Assembly of the core has been completed and the bench tests are aimed at verifying that the main performance parameters of the engine are in line with calculations. The first phase of tests will also enable refinement of the automatic control system.
The powerplant is a lower-thrust derivative of the PD-14 developed for the Irkut MC-21-310 twinjet.
United Aircraft is planning to offer the PD-8 as a domestically-built alternative to the PowerJet SaM146 on the Superjet 100.
The SaM146 is jointly produced by France and Russia with the core – the high-profile part of the engine – built by French manufacturer Safran.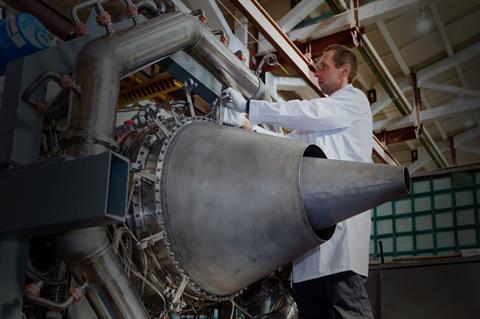 United Aircraft is developing a version of the Superjet 100, designated the SSJ-New, which will include a higher proportion of Russian-produced components.
"We have completed the assembly of the first experimental gas generator – the heart of the powerplant – and are getting ready to begin testing it," says Russian state technology firm Rostec's deputy general director Vladimir Artyakov.
Monitoring sensors have been installed and the rotors balanced, and Artyakov says the "crucial" initial ignition tests will commence "in the near future".
United Engine plans to exhibit the PD-8 at the upcoming MAKS Moscow air show in July. The company is also developing a high-thrust version of the engine family designated the PD-35.