Researchers have commenced flight-testing with a Yakovlev Yak-40 modified with a superconducting electric engine mounted in the nose.
The aircraft is fitted with a motor, developed by materials firm SuperOx, and propeller as part of a hybrid powerplant demonstrator.
This engine "complements" the aircraft's two other functioning jet engines, the centre engine having been adapted with its intake capped, says the Central Institute of Aviation Motors.
"There was a clear co-ordination of the work between the aircraft systems and the [hybrid plant], which includes the world's first superconducting electric aircraft engine," it adds.
"Use of high-temperature superconductive technologies in the future will significantly reduce the weight and dimensions of electrical systems and increase the efficiency."
General director Mikhail Gordin says: "We are already using the experience gained in other projects, including the use of hydrogen as a fuel."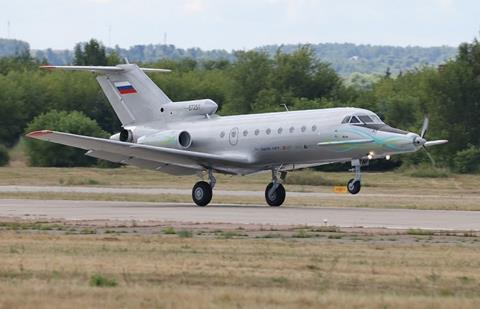 The Yak-40LL laboratory testbed, numbered 87251, was originally delivered to Aeroflot in 1973.
Its modification features the 500kW superconducting electric motor and a liquid nitrogen cryogenic cooling system. One of the regular Ivchenko-Progress AI-25 engines has been replaced with a gas turbine with an electric generator to drive the electric motor. The central fuselage is fitted with lithium-ion batteries as part of the modification.
Several institutions have participated in the work, including the Siberian aeronautical research centre SibNIA and universities in Moscow and Ufa.
SibNIA general director Vladimir Barsuk says a crucial part of the flight-test work has been to determine the effect of the propeller on the operation of the aircraft's engines. "Everything turned out to be within acceptable limits," he adds.
Ground-testing of the demonstrator had commenced in early February at the SibNIA airfield in Novosibirsk. The aircraft was also shown at the MAKS 2021 Moscow air show.