ATR is eyeing opportunities in China with its 42-600 turboprop, as it works to "reactivate campaigns" among the country's operators.
The aircraft was certificated by China in November last year. Crucially, given it falls into the up-to-30-seats category, under Chinese regulation it is considered as a "general aviation" aircraft, potentially lowering the market-entry barriers for airlines.
ATR commercial senior vice-president Fabrice Vautier says work on the Chinese market – which also include building up infrastructure for its turboprop operations – could start "as early as next year".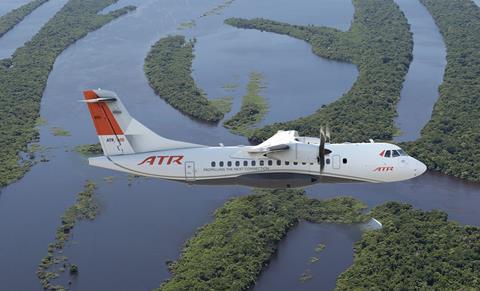 "A lot of airports [and cities] are not really served by high speed trains…[there are] a lot of communities we can serve," he notes, while acknowledging China's expansive rail network.
The general aviation market "is more accessible", which is why it is a "primary target" for the Airbus/Leonardo company.
The regional turboprop manufacturer clinched Chinese certification for the 42-600, capping off years of work to enter the Chinese market.
Asked if the airframer is looking to certificate its other variants – including the larger ATR 72 – Vautier says it is ATR's "intention to continue with certification" efforts. However, the airframer will prioritise building up a customer base for its 42-600.
Concurring, ATR chief executive Nathalie Tarnaud Laude adds: "We have to do this step by step, launching all our projects at once doesn't make any sense."
Separately, the airframer is seeing "strong recovery" in South Asian countries like India and Bangladesh, with capacity up more than 40% against pre-pandemic numbers. North Asia, especially Japan, is also seeing a similar recovery, while Southeast Asia is "still slightly behind".
"There are still areas where we need to catch up…and this is mainly driven by the fact that those countries are heavily dependent on Chinese traffic either for business or leisure," notes Vautier.
Still, he says the "overall picture" shows good recovery progress in Asia, a region that accounts for a significant proportion of ATR's orderbook.
At the Paris air show, ATR disclosed 22 firm orders and two options.