Boeing anticipates its 737 Max production rate will return to previously expected levels several years after the company restarts Max production, which could come within the next several months.
Executives laid out that timeline during Boeing's 29 January earnings call, signalling Max production rate will remain significantly less than rival Airbus's A320-family production rate for the foreseeable future.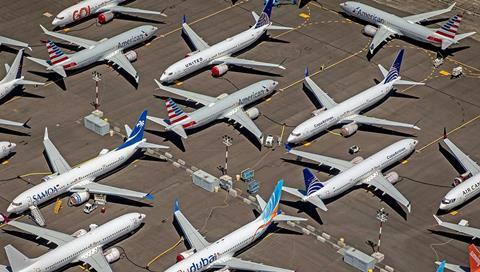 "We've assumed we will resume 737 Max production at low rates in 2020… Then we expect to gradually increase to previously planned production rates over the next few years," says Boeing chief financial officer Greg Smith.
Boeing declines to say at which rate it intends to restart production or to provide timelines for rate increases.
"When the supply chain has stability, we will make the next rate increase," Smith says.
Prior to the March 2019 grounding, Chicago-based Boeing produced 52 737s monthly and anticipated hiking production to 57 aircraft monthly in 2019, followed by possible further rate hikes.
Airbus produced about 53 A320-family aircraft in 2019 and plans to boost production to 63 aircraft in 2021.
After the grounding took effect, Boeing continued Max production, albeit at a reduced rate of 42 aircraft monthly. Finally, this month, with the certification timeline still uncertain, Boeing temporarily halted Max production.
Boeing expects FAA certification will come by mid-year, meaning production could restart within several months, Boeing chief executive David Calhoun said recently.
During the grounding Boeing had stockpiled produced Max at several US airfields.
The company has not disclosed exactly how many Max are in storage. But the number stands to be more than 400 based on a 42-aircraft monthly production rate from March to December 2019.
Once regulators do clear the Max to fly, Boeing faces the massive task of getting all those aircraft into service.
"Return to service… will be a one-and-a-half-year programme based on the [aircraft] in inventory," says Calhoun on 29 January.
Smith clarifies that most currently-stored Max will be delivered with in a year of when the grounding lifts.
Calhoun also insists neither a tight supply of flight simulators nor the FAA's new airworthiness certification requirements will delay that timeline.
"That is not really a problem," Calhoun says of simulator availability, noting that Boeing in October 2019 began "building the capacity" of available flight simulators.
"The capacity for flight simulators is getting very close to where we can handle" the return-to-service plan, he says.
The FAA is expected to require simulator training for pilots as part of its return-to-service plan. Smith says only 36 Max simulators currently exist.
Additionally, last year the FAA announced it will now issue individual airworthiness certificates for each specific 737 Max, taking over aircraft-specific approvals it had previously delegated to Boeing.
Calhoun says Boeing's plans provide "plenty of room for [the airworthiness certification] process to unfold methodically".
The company provides no details about the FAA's airworthiness certification process or its possible effect on deliveries, saying more details will be forthcoming.
The FAA also declines to comment about its airworthiness certificate plans but insists it "has the expertise and the staff to meet Boeing's projected delivery needs".