IATA director general Willie Walsh has welcomed a new Saudi Arabian economic regulatory framework intended to support air transport development, but has cautioned the Arab region over urged the Arab region to avoid repeating regulatory "mistakes" by the European Union.
Walsh spoke at the opening of the Arab Air Carriers Organization conference in Riyadh on 31 October.
He said Saudi Arabia was an "all too rare example" of a government's "fostering connectivity as a key element" of overall economic strategy, adding that its commitment was "more than just words on paper".
The new economic framework aims to encourage investment and introduce greater transparency and more free-market initiatives in airport and airline operations.
Walsh describes the framework as "good news", and pioneering for the region.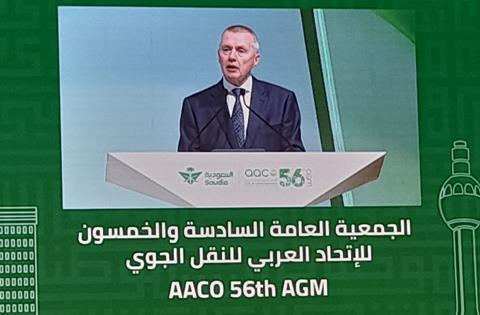 But while encouraging other Middle Eastern states to pursue similar avenues, Walsh stressed that the region needs to "understand potential pitfalls" of the "best-intentioned" regulations.
He says European Union courts, for example, have interpreted "ever more broadly" passenger-rights legislation, and that the EU regulatory approach to delay compensation has become "something of a contagion", with other countries – such as Canada – seeking to adopt parallel measures.
IATA is active in a number of Arab countries, such as Saudi Arabia, Morocco and Oman, to support regulatory updates, says Walsh.
Walsh also highlighted the friction over Dutch government slot measures at Amsterdam Schiphol, commending the Arab region for its "adherence to slot guidelines".
"Because we work in a global system, it's important we all play by the same rules," he says.
He added that the region should also "learn from EU mistakes" in its efforts to address decarbonisation, emphasising that adopting a path to decarbonisation while continuing to facilitate growth is a "credible" strategy.