Virgin Australia has pipped rival Qantas to claim the highest share in the Australian domestic travel market in January, as interstate border restrictions ease and airlines ramp up flying.
Data from the Australian Competition and Consumer Commission (ACCC) shows that Virgin Australia carried 34% of all domestic passengers in January. This compares to Qantas' 31%, as well as the 31% market share claimed by Qantas low-cost unit Jetstar.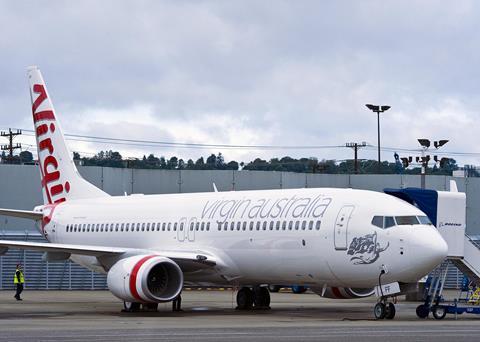 The ACCC notes that Virgin Australia also grew its market share from 33% in October 2021, as well as 22% in November 2020 when it had just emerged from business restructuring.
Meanwhile, Jetstar recorded the most significant growth in market share, from 17% in October 2021 to 31% in January. The ACCC attributes this to border reopening, as well as "strong leisure demand" during the year-end summer travel period in Australia.
Consequently, that meant mainline Qantas' share dwindled significantly — from 46% in October 2021 to 31% in January.
Taken together, the Qantas Group still holds the lion's share of the Australian domestic market at 62%, similar to pre-pandemic January 2019. Against December 2021, however, it represented a slight dip in market share.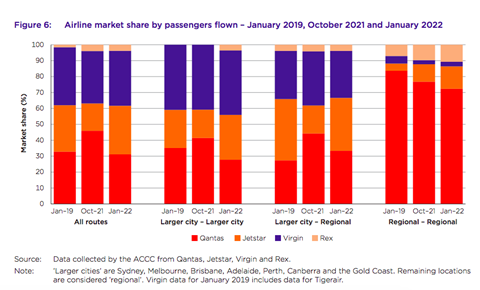 As for Regional Express, the competition watchdog notes that its 4% market share has held steady since October.
Separately, ACCC data indicates that interstate routes have once again become the busiest routes in January, as states relaxed border restrictions.
Nine of the top 10 busiest routes in January were interstate routes, with Melbourne-Sydney the top route at over 400,000 seats offered.
The sole intrastate route to feature in the top 10 was Brisbane-Cairns, which was the country's busiest route in October 2021, when domestic borders remained closed.
THE OMICRON EFFECT
The ACCC also notes that domestic capacity was "close to recovery" in December, before the surge in Omicron infections "stalled" recovery momentum.
It states that scheduled weekly capacity in the week of Christmas was 95% pre-Covid-19 levels — the highest since the start of the pandemic.
The Omicron surge led to Australian carriers suspending a significant number of flights — both inter- and intra-state — as infections swept throughout the country.
The ACCC says Australian carriers — except Jetstar — all saw lower passengers, "as many consumers reconsidered their need to travel during the beginning of the Omicron outbreak". Overall domestic passenger numbers only marginally rose, to 2.5 million.
The commission adds the impact of Omicron wave has "rattled" consumer confidence. It states: "With exponential growth of Covid-19 cases in the community from late December and January, many consumers chose to cancel or postpone their travel plans despite mostly open borders."
Adds the ACCC: "The airlines now face a different challenge in navigating the pandemic. Previously, prolonged movement restrictions and border closures hampered the industry's recovery. However, as at early March, all states and territories have removed travel restrictions for vaccinated Australians.
"It is uncertain how consumers will respond to future spikes in case numbers or new variants, and the airlines must now anticipate and respond to consumer demand in a changing Covid-19 environment."
Still, the ACCC points out that airlines are starting to see an uptick in bookings in recent months, with further increases likely when Australia's international border restrictions ease.