Hot on the heels of striking a deal to establish air taxi operations in Abu Dhabi, US developer Archer Aviation has secured an agreement to deploy its electric aircraft on the Indian subcontinent starting in 2026.
The California start-up said on 9 November that it has signed a memorandum of understanding with travel and hospitality conglomerate InterGlobe Enterprises – the ultimate parent of low-cost carrier IndiGo – to launch electric vertical take-off and landing (eVTOL) aircraft operations "across India".
The companies indicate Archer's air taxis will be initially rolled out in Delhi, Mumbai and Bangalore.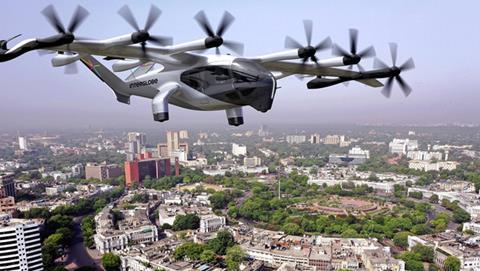 InterGlobe's businesses include InterGlobe Aviation, the parent company of Indian low-cost carrier IndiGo.
The proposed partnership between Archer and InterGlobe will aim to "provide a revolutionary transportation solution for the country, improving urban mobility with safe, sustainable and low-noise electric air taxi service that is cost-competitive with ground transportation".
The partnership will encompass aircraft operations, pilot training and developing and financing vertiport infrastructure, as well as "plans to finance up to 200 of Archer's Midnight aircraft".
In addition to air taxi services, the companies plan to use Midnight for cargo, executive and medevac applications.
Adam Goldstein, Archer's chief executive, says India represents one of the best opportunities for "eVTOL aircraft utilisation in the world, as it is home to the world's largest population of over 1.4 billion people and its largest cities face some of the greatest congestion challenges".
Delhi's population is estimated to exceed 30 million, while Bangalore and Mumbai are home to more than 20 million people each.
Archer outlines a potential route in Delhi between Connaught Place and the financial hub of Gurugram, which is typically a 60-90min car ride but could be flown in Archer's four-passenger, all-electric aircraft in about 7min, the company says.
Last month, Archer made a deal with the Abu Dhabi Investment Office to launch air taxi operations in the UAE in 2026, and to open its first international headquarters and manufacturing facilities there.
Archer recently flew Midnight for the first time, aiming to launch a flight test programme next year and revenue flights as soon as 2025.
The company will report its third-quarter financial results on 9 November.