Start-up Archer Aviation has finished assembling a prototype of its in-development electric air taxi Midnight and aims to begin flight testing the aircraft this summer.
The prototype is not, however, the same aircraft Archer plans to use for certification flight tests – that work will fall to another variant now being produced, Archer says on 11 May.
"Final assembly of our first Midnight aircraft is now complete, and it is preparing for its flight-test programme," says Archer chief executive Adam Goldstein. "This aircraft will accelerate and reduce risk on our certification programme, paving the way for our team to focus on building and conducting piloted operations with conforming aircraft."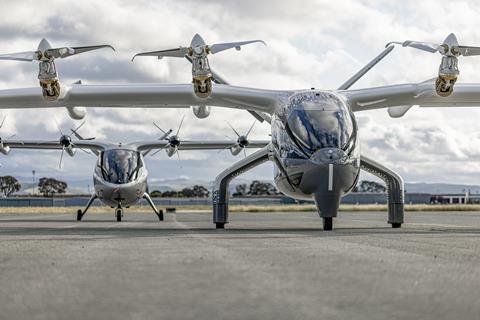 Archer aims to achieve regulatory certification of Midnight – an electric vertical take-off and landing (eVTOL) aircraft – in time to begin passenger flights in 2025, though much remains uncertain due to still-unclear regulatory requirements.
The company has shipped the first Midnight prototype from a facility in Palo Alto to its test site in Salinas, it says. "Archer will now take this aircraft through a series of ground tests leading up to its planned first flight this summer."
The tests will allow the company to complete what it calls "critical company testing", which will help it "accelerate and reduce risk on its certification programme with the Federal Aviation Administration".
The prototype will not carry a pilot. It will "fly many of the same test points" that Archer plans later to complete again, using a different aircraft, as part of its regulatory certification flight-test programme.
That next aircraft – called the "conforming" variant – will be piloted, Archer says. "Archer is targeting the completion of final assembly of its initial conforming Midnight aircraft in [the fourth quarter of] 2023, and to begin piloted flight-test operations in early 2024."
Archer has for several years been developing eVTOL technology using a prototype called Maker.
In November 2022 it revealed Midnight – a larger aircraft and the variant Archer says it intends to certificate for commercial flights.
Midnight will be capable of carrying four passengers and a pilot. It has 12 props mounted on booms extending from its wings, and a V-tail. Midnight also has six battery packs, each powering two electric engines, Archer says.
The aircraft will be capable of flying distances up to 87nm (161km) but be "optimised" for 17-43nm flights. It will be "engineered" to fly at speeds up to 130kt (241km/h), according to the company.
Archer intends to manufacturer Midnight at a site in Covington, Georgia. The company became publicly traded in September 2021 and plans to release its first-quarter 2023 results today.