Boeing in October logged its first month in more than three years without a single cancellation and padded its backlog with orders for 10 787s and more than 100 737 Max aircraft.
The airframer had not reported a cancellation-free month since July 2019, shortly after aviation authorities globally grounded the 737 Max, Boeing said on 8 November.
In October, the company landed orders for another 122 aircraft, thanks largely to commitments from Alaska Airlines and BA and Iberia parent IAG to respectively buy 52 and 50 737 Max jets.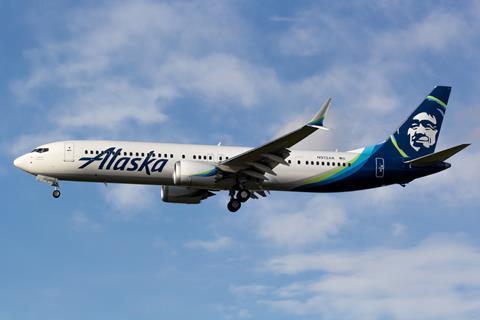 Boeing also received orders in October for one 737 Max from American Airlines, and for three Max from an undisclosed customer or customers.
In addition, Boeing has not named which customer or customers placed orders last month for 10 787s. Those deals throw more momentum behind the 787 programme following a delivery halt that lasted roughly 20 months, ending in August.
Also in October, Boeing took commitments for one 767-300 Freighter from FedEx and for five 777Fs from an unnamed buyer or buyers. However, the customer is likely to be Emirates Airline, as the Gulf carrier today revealed it had placed an order for the same quantity of widebody freighters.
The combined 122 orders Boeing secured in October were more than it received in any month this year except July.
But the US manufacturer's pace of aircraft deliveries slowed in October as the company continued struggling to offload aircraft amid a raft of challenges, including its continued inability to deliver the 737 Max to Chinese airlines.
Last month, Boeing delivered 35 aircraft of all types, including one 737NG-based P-8 maritime patrol aircraft, 22 737 Max, one 747-8F, two 767-based KC-46 military refuelling tankers, two 767-300Fs, one 777F and six 787s.
At 31 October, Boeing's backlog stood at 4,441 aircraft, up from 4,354 at the end of September. The backlog includes 3,590 737s, two 747s, 111 767s, 318 777s and 420 787s.
For the year to end-October, Boeing has received orders for 664 aircraft and logged 114 cancellations, leaving it with 550 net orders.
Over the same period it has delivered 363 aircraft, including 300 737s. That compares with the 268 aircraft, including 201 737s, it shipped in the same 10 months of 2021.