Boeing plans in 2024 to expand its 737 Max production footprint by opening a new production line at its facility in Everett, supplementing the three 737 lines at its original 737 assembly site in Renton.
Stan Deal, chief executive of Boeing Commercial Airplanes, disclosed the plan in a 30 January email to staff, saying the move will give the company four 737 production lines when the Everett line goes live, expected in the second half of 2024.
Deal attributes the expansion to strong demand for Boeing's 737.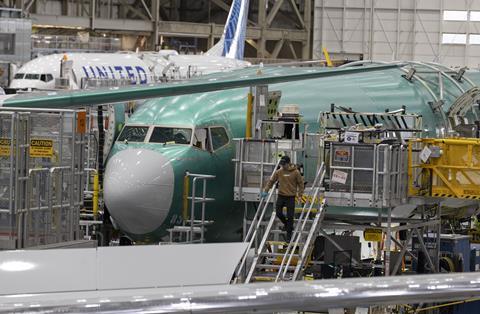 "To be clear, we are not taking the 737 out of Renton – just adding capacity to capture customer demand, especially for the newer models like the [Max 8-200] and 737-10," Deal's message says. "Given the proximity to Renton, Everett is a great fit, with the availability of highly skilled workers and factory space."
Boeing has long produced 737s only in Renton, a site originally built by the US Navy and at which Boeing has produced its other narrowbody jets, including 707s, 727s and 757s. Everett has been Boeing's widebody aircraft production centre, home to assembly of 747s, 767s, 777s and 787s.
But the company has found itself with free space in Everett, having in December 2022 wrapped up 747 production and recently transitioned all 787 production to its North Charleston, South Carolina facility.
"This undertaking is significant," Deal's note says. "In addition to preparing the facility, we have begun the process of notifying and preparing our suppliers, customers, unions and employees as we take the necessary steps to create a new line. We are methodically working through all of our checks and balances, keeping safety and quality top of mind."
The new planned 737 line in Everett will be located in space where Boeing formerly produced 747s and where it is now completing "join verification" work on 787 fuselages, the company says. Boeing says it plans to relocate that 787 work, which relates to manufacturing quality problems.
Everett is north of Seattle and Renton is south. The sites are about 30 miles (48km) apart.
Boeing has three 737 production lines at Renton but is currently running just two, the company confirms. Its production has been hindered recently due to shortages of aircraft components and of labour.
Prior to the 737 Max grounding, the Renton facility was churning out 53 737s monthly, and the company had been hoping to further hike output. The Max's grounding and subsequent Covid-19 pandemic put those plans on ice.
Boeing says the planned fourth 737 production line will let it boost capacity 25%, but it declines to specify actual potential production figures.
The company does not disclose actual month-by-month production rates, but its 737 output averaged around 25 jets monthly in 2022, according to financial firm Jefferies.
Deal cites demand for 737 Max 8-200s and Max 10s for driving the expansion. The Max 8-200 is a high-capacity, 210-passenger variant of the baseline Max 8, while the 737 Max 10 is the largest variant of the Max family, with capacity to carry 230 passengers. The Max 10 is not yet certificated but Boeing aims to clear that milestone by early 2024.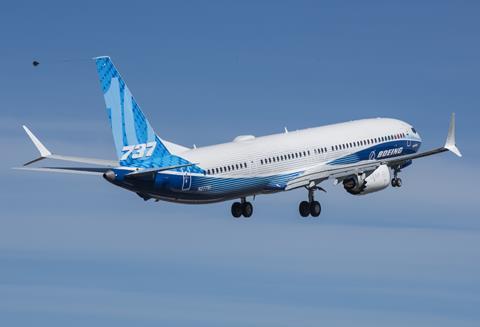 Deal says "most" of Boeing's 737 team will remain in Renton as the company reactivates that site's third, now-dormant production line.
"A small group, along with some Everett teammates and some new hires, will help us open this fourth line, known as the North Line. These teammates will have local Everett management, but [report] up to the 737 Max programme office," Deal's message says.
Boeing plans to hire 10,000 workers this year, it has said.
News of the new 737 line follows Boeing's major legislative win last month, when lawmakers passed a bill exempting the 737 Max 7 and Max 10 from a new certification requirement. That requirement prohibited the FAA from certificating aircraft lacking modern pilot alerting systems.
Boeing's 737 Max lacks such a system, but the company successfully argued that changing the Max's cockpit systems would erode, not improve, safety.
"We greatly appreciate the support of the Washington delegation in Congress," Deal says in his note. "This announcement underscores our commitment to the state and to Washington workers."
Deal says Boeing worked closely with the International Association of Machinists and Aerospace Workers on its plan to open the new Everett 737 line.
Story corrected on 31 January to note that Boeing has long produced 737s in Renton. But that site is not the only place the jets have been built. Boeing started 737 production at Boeing Field in Seattle before moving production to Renton.