Airlines, lessors and other financiers laid out $59 billion for the purchase of new commercial aircraft in 2020 – a full 40% less funding than was available in 2019.
That is according to Boeing's latest aircraft finance report, which puts financial figures behind 2020's decline in aircraft deliveries.
The report also shows that North American customers accounted for a much larger share of funding for Boeing jets than in previous years.
That development reflects a pandemic-flattened year in which US airlines – which secured sizeable government financial aid - received an outsized portion the new aircraft. Boeing's 2020 deliveries also suffered from the 737 Max's grounding, which US regulators lifted in November, and 787 quality issues that led Boeing to halt 787 deliveries after October.
The $59 billion that went toward new-aircraft deliveries in 2020 is down from $98 billion in 2019.
It is less even than the $62 billion that funded new aircraft one decade earlier, in 2010, according to the report, called "Current Aircraft Finance Market Outlook 2021".
This year's report leaves out aircraft-finance market forecasts due to "ongoing impacts of the pandemic", Boeing says.
Early in 2020, before the pandemic cloud spread globally, airlines were enjoying strong aircraft-financing environment. Funds were readily available, and interest rates were low, Boeing says.
But the finance environment soured quickly as travel demand evaporated several months into the year, leading airlines to ground thousands of jets.
"All sources of aircraft financing quickly re-evaluated their exposures and their appetites as the entire industry, including airlines, original equipment manufacturers, lessors and financiers worked to ensure liquidity," Boeing says.
Soon, "credit spreads widened", meaning corporate bond yields moved higher than US Treasury bond yields, signaling uncertainty about corporations' ability to repay debt.
"Capital markets closed to aviation and bank capacity was used up quickly", a result of borrowers taking more debt.
Boeing describes the availability of bank financing for commercial aircraft in 2020 as of "major concern".
"As the crisis continued to unfold, banks retreated and lessors provided sale leaseback liquidity and worked with airlines on payment deferrals," the report says. "Capital markets came back, and new sources of funding from institutional investors and funds came to market."
The $59 billion available in 2020 was, as in previous years, primarily split relatively evenly from three sources: cash, publicly-issued debt and bank-issued debt, the report says.
Export credit banks, like the Export-Import Bank of the United States, supplied only a sliver of 2020's aircraft financing, similar to in recent years.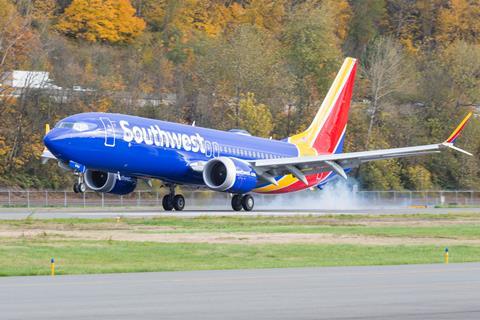 Half of the financing available last year for the purchase of Boeing jets went to North American customers, up from 35% in 2019,
That roughly mirrors the geographic distribution of Boeing's deliveries; of the 157 jets Boeing handed over in 2020, 98 (62%) went to North American customers, data shows. North American customers took 43% of the jets Boeing delivered in 2019.
European customers accounted for 22% of funds to purchase new Boeing jets last year, up from 12% in 2019. Carriers in the Middle East, China and the Asia-Pacific region accounted for a smaller share of the pie in 2020 than in 2019, according to the airframer.
"As we look forward to 2021, we expect markets will continue to heal and the cost of capital will remain low," Boeing's report says.