Embraer continues restructuring its operation and cutting costs as it aims to return to growth after 2021.
As part of those efforts, the Brazilian airframer has reduced its workforce by about 15%, or some 3,000 staff, the company reports on 10 November.
"Our focus in the short term remains on conserving cash," says Embraer chief executive Francisco Gomes Neto. "We are preparing the ground for a much better financial performance in 2021."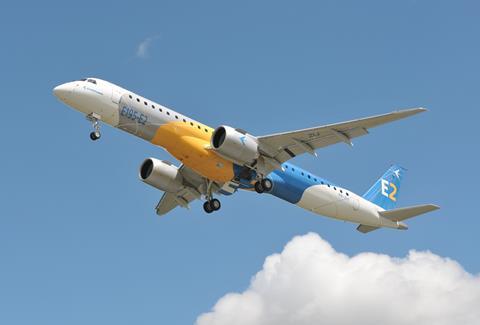 Gomes Neto made his comments as Embraer disclosed third-quarter financial results.
It lost $121 million in the period, bringing losses for the first nine months of the year to $729 million.
The company reports $759 million in third-quarter revenue, down 35% year-on-year. Embraer delivered 28 jets in the period, including seven commercial aircraft and 21 business aircraft. By comparison, it handed over 44 jets in the same period of 2019.
Like all airframers, Embraer's performance has suffered mightily amid the coronavirus pandemic. But also, this year Boeing backed out of a proposed acquisition of Embraer's commercial aviation unit, leaving that regional jet business without a major partner.
Gomes Neto says Embraer's priorities include focusing on becoming a "lean organisation" and seeking to "recapture" corporate-wide synergies lost when Embraer separated its commercial aviation business ahead of the planned Boeing deal.
"In view of the new market reality, it has become essential to review our workforce," Gomes Neto says. "A simpler, leaner organisation has been prepared."
Embraer is progressing with a three-part business plan consisting of "crisis response" in 2020, followed by industry recovery next year and then growth starting in 2022.
Embraer sees growth and profits coming from "a combination of business diversification projects, innovation and strategic partnerships", Gomes Neto says.
It intends to revamp its purchasing department to focus on cost reduction, and will invest in advanced material-planning and logistics technologies, Gomes Neto says.
Embraer still anticipates that the regional jet segment of the airline industry will recover first. But it also intends to develop new products, including those based on existing aircraft platforms.
"We will focus on adapting and converting aircraft for specific segments, such as converting E-Jets to carry cargo in the passenger cabin", Gomes Neto says.