Embraer has launched a programme to convert ERJ-145 passenger aircraft into "semi-private" jets, a move coming as more than a hundred of the regional jets sit in storage, many of them grounded during the pandemic.
The modifications include removal of overhead bins – for more "personal space" – and installation of 16 to 28 "premium seats" in a two-across configuration, the Brazilian airframer says on 25 May.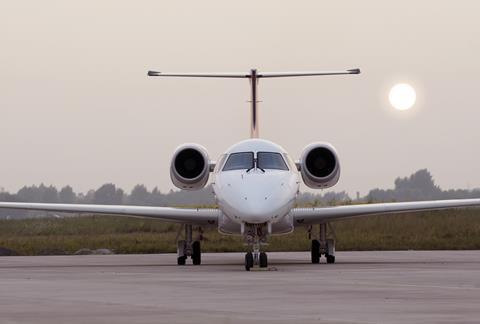 Embraer is now developing the supplemental type certificate it needs to perform the modifications, which will be completed at Embraer-owned service centres. "All ERJ-145 are eligible to be converted," the company says.
Embraer says the converted ERJs will appeal to "passengers who usually travel first class".
"The ERJ-145 semi-private jet allows these customers to avoid main crowded airports and save time, providing a premium experience to the passengers who will board from and disembark at a private terminal," it says.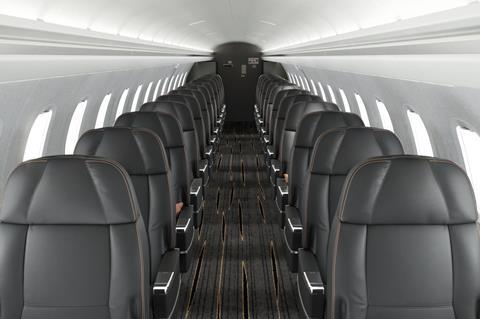 The company "is having conversation with several customers but [does not] have a firm launch-customer yet".
Embraer aims to sell the modified ERJ-145s to charter operators, corporate flight departments and other businesses that need to transport a "smaller amount of people with more privacy, comfort and flexibility at reasonable operating costs."
The modification programme comes at a time when many regional jets are sitting in storage.
In 2020, as the pandemic strangled air travel demand, some large ERJ-145 operators closed shop, among them US carriers ExpressJet Airlines, which had 95 ERJ-145s in service at end of 2019, and Trans States Airlines, which had 46 in service, Cirium data shows.
Globally, some 220 ERJ-145s are now in storage worldwide, with another roughly 350 in service, Cirium shows. By comparison, at the end of 2019, the world's airlines had about 475 of the jets in service and 120 in storage.
ERJ-145 average market values now range from $1.1 million to $1.45 million, down 10-17% since the end of 2019, according to Cirium.
Embraer's conversion seems likely to compete with corporate-converted MHIRJ CRJ200s. Canadian modification and maintenance shop Flying Colours modifies those 50-seat jets into a business-aircraft configuration it calls ExecLiner.
Story updated on 26 May to include comments from Embraer about customer conversations and target customers.