Embraer confirms it will wait until 2023 to disclose more information about its planned development of a new passenger turboprop.
An executive at the Brazilian airframer also says the company remains undecided about whether to first develop a 70- or a 90-seat variant.
"We hope that, at the beginning of next year, we will be able to announce a decision about the turboprop development," Embraer chief executive Francisco Gomes Neto says on 30 May. "We believe we will be ready by Q1 2023."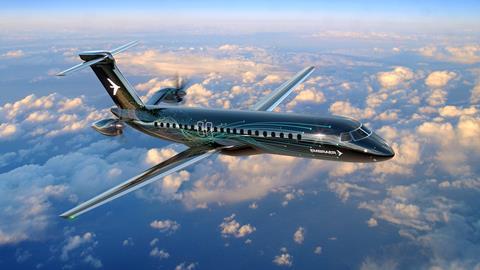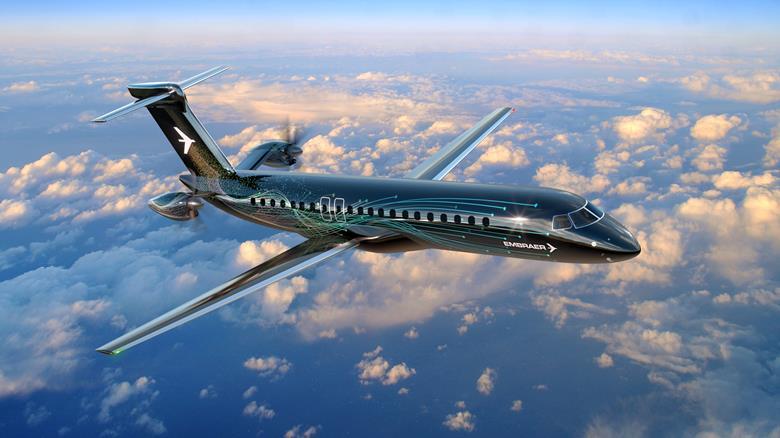 Embraer previously said it might announce news about its conceptual turboprop as early as this year.
"We thought [it] could be the end of this year, but we prefer to be more realistic", Gomez Neto adds.
For several years Embraer has hinted about launching development of a modern turboprop, a move that could significantly disrupt a market dominated by ATR and De Havilland Canada. Both those airframers' aircraft are based on decades-old designs.
Embraer has said its new turboprop would share a fuselage with its E-Jet regional jets. The company is eyeing two variants, one with 70 and another with 90 seats.
"Hopefully next year we can get a green light on one of those aircraft," adds Embraer senior vice-president of engineering, technology and corporate strategy Luis Carlos Affonso.
Embraer views the 70-seat variant as ideal for the US carriers, which would likely outfit such an aircraft with only 50 seats, in two classes. They would use it to replace aging 50-seat regional jets, says Affonso, adding that the 90-seater would likely be more popular in other regions.
Affonso declines to say which variant Embraer is more likely to develop first, saying that decision will depend on market factors.
Embraer had initially suggested its new turboprop would have wing-mounted engines. But in 2021, the airframer released a computer rendering showing a proposed aircraft with aft-fuselage-mounted engines, and a T-tail.
HYDROGEN RETROFIT
"Putting the engines in the back of that platform [means] the architecture of the airplane, the basic design, could be adapted… with innovative technology," Affonso says on 30 May.
Specifically, an aft-mounted configuration could allow the company to modify the aircraft to have hydrogen-burning engines. Embraer could equip it with "a few tanks of hydrogen in the fuselage, without having to completely redesign the airplane," Affonso adds.
Embraer could bring such a variant to market in the first half of the 2040s, the airframer says.
"Our view is that there is a window of opportunity for a conventional engine in this power class that could… maybe after 15 years, evolve into a powerplant that would use new technologies," says Affonso.
Such a move would align with Embraer's broader plan to develop aircraft that emit less carbon. In 2021, it proposed four such aircraft, which it calls its "Energia" family.
Those include a nine-passenger hybrid-electric aircraft for 2030 service entry, followed in 2035 by a nine-passenger all-electric aircraft and a 19-passenger hydrogen-powered airliner. Then, in the 2040s, Embraer plans to bring to market a 35-50-seat regional jet powered either by hydrogen or biofuel.
Embraer's competitors in the turboprop market include the ATR 42 and 72, as well as De Havilland's Dash 8-400.
The Dash 8's fate has been in doubt recently after the Canadian airframer said in 2021 that it is decommissioning its Toronto production site. De Havilland insists it intends to restart production elsewhere once demand for new turboprops recovers from the Covid-19-driven downturn.
Franco-Italian ATR has enjoyed more sales success in recent years and holds orders for 169 ATR 42s and 72s, according to Cirium fleets data.
In May, ATR disclosed plans to develop a hybrid-electric variant of its turboprop called Evo, with service entry by end-decade.
Embraer's Gomes Neto says ATR's move lends credence to the argument that the turboprop market is ripe with opportunity.
"The ATR announcement just validates that the ATR 72 needs replacement" – that there exists a "market for a new turboprop", he says..