Eviation may have radically changed the design of its all-electric Alice aircraft, ditching the wingtip- and tail-mounted pusher props in favour of a more conventional configuration.
An unverified image obtained by FlightGlobal shows a possible evolution of the Alice that features two propellers mounted on the rear fuselage. It also has a T- rather than V-tail and, apparently, tricycle landing gear.
Israel-based Eviation declined to comment about potential changes to the design of the nine-passenger aircraft. "At the present time, we do not have information we can share," the company says.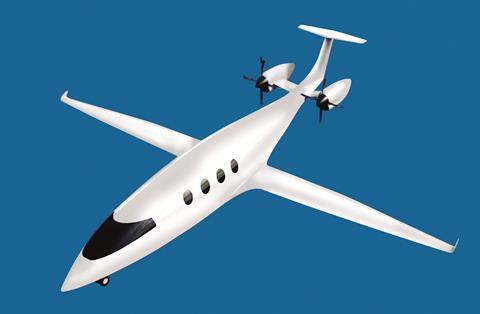 Eviation chief executive Omer Bar-Yohay said in December that the company had made "a few minor modifications" to Alice. The latest prototype is "slightly different than what you've seen at the Paris air show", he said.
That same month, Bar-Yohay said he expected Alice to make its first flight in 2021 and achieve certification in the second half of 2023.
The prototype Eviation displayed at the 2019 Paris air show had three motors, each driving single propellers in a push configuration. One motor was located on each wingtip, with the third located at the rear of the fuselage behind the tail.
That prototype also had a V-tail and 'tail-dragger' landing gear – one wheel under each wing and one under the centre rear fuselage. Eviation's website describes Alice as having that configuration.
But the image obtained by FlightGlobal shows an aircraft that, while retaining certain features, for example, the distinctive round cabin windows and striking cockpit canopy, has notable design differences.
It appears to only have two motors, not three, and they are located on each side of the rear fuselage, not on the wingtips. The props are also in a pull, not push, configuration.
Additionally, the aircraft in the image has a T- rather than V-tail. It also has nose landing gear, suggesting a tricycle, not tail-dragger, configuration.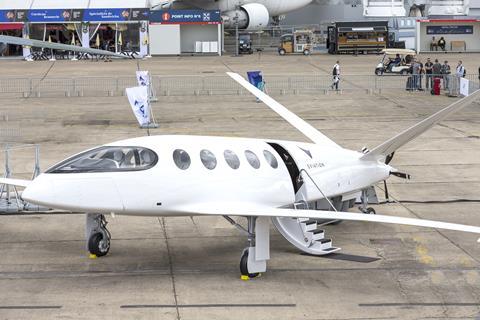 Wingtip-mounted motors have known benefits, but also present a number of challenges. For example, they can reduce drag-causing vortices and deliver improved propulsive efficiency and performance, according to 2017 NASA research paper.
However, the downside is potential instability: a single-motor failure tends to cause "a large yaw moment due to asymmetric thrust," says NASA's report.
That report reviews the design of NASA's in-development all-electric X-57. While that experimental aircraft is to have motors on the wingtips it will also use six smaller motors along the length of each wing.
The need to address engine-out yaw "increases the complexity of designing for the single-motor-out failure case", NASA's paper says.
Peter Lemme, an aerospace consultant and former long-time Boeing aerospace engineer, says designers might need to incorporate "bigger control surfaces" to counteract engine-failure yaw that could affect an aircraft with wingtip props. They also might need more-complex wing structures to support the wingtip thrust, he adds.
Lemme notes that V-tail structures could be difficult to incorporate into an aircraft with rear-mounted engines.
Eviation, majority owned by Singapore's Clermont Group, has marketed Alice as a commuter aircraft that will revolutionise short-haul air travel. US commuter airline Cape Air became Alice's launch customer in 2019 when it took a "double-digit purchase option."
Alice will have a composite airframe, fly-by-wire controls, and will be powered by a 920kWh lithium-ion battery system that will weigh 3,600kg (7,940lb). Range is given as 440nm (815km) and speed will be 220kt (407km/h).
Eviation has named Magnix and Siemens – now Rolls-Royce – as propulsion system providers. Clermont also owns a stake in Magnix.
Other suppliers include GKN Aerospace, which signed an agreement covering design and manufacturing of Alice's wings, empennage and electrical wiring interconnection systems. Honeywell Aerospace is designing a cooling system for Alice, and South Korea's Kokam had signed an agreement to supply batteries.
In 2020, an Alice prototype was destroyed due to a fire reportedly sparked by a lithium-ion battery. That incident occurred in Prescott, Arizona, where Eviation has been conducting tests.