Mitsubishi Heavy Industries (MHI) has acquired the CRJ programme from Bombardier and formed a new group of operating entities focused on regional aircraft service and support.
The Japanese industrial company completed the $550 million purchase despite recently significant changes to the Mitsubishi Aircraft SpaceJet programme, a move that spurred questions about whether the CRJ deal would close.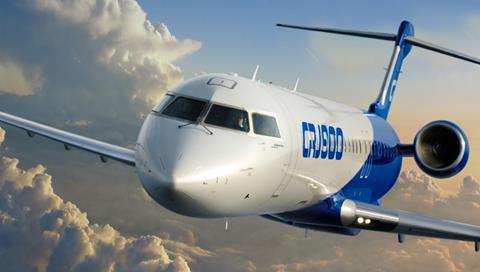 The acquisition excludes CRJ production, which is wrapping up and remains with Bombardier. Under the deal, MHI also takes on $200 million in CRJ-related liabilities, Bombardier says.
In addition, the deal includes services and support businesses and a broad swathe of other CRJ-related functions, which now reside under a newly formed Montreal-based Mitsubishi business called MHI RJ Aviation Group.
That company now owns "maintenance, engineering, airworthiness certification support, refurbishment, asset management, marketing and sales activities for the CRJ series aircraft, along with the type certificates and related intellectual property rights," MHI says.
MHI RJ also now owns Bombardier's former aircraft services and support sites in the Canadian cities of Montreal and Toronto, and in Bridgeport, West Virginia and Tucson, Arizona in the USA. It also owns former Bombardier parts distribution depots in Chicago and Frankfurt, Germany.
MHI RJ will provide a "holistic service and support solution for the global regional aircraft industry, including the CRJ-series aircraft", MHI says.
"There is new energy on board and our team is committed to serving the regional aviation market and becoming a platform for growth in the industry," says MHI RJ chief executive Hiroaki Yamamoto.
Bombardier will, on behalf of MHI, continue to supply spare parts and components as part of a long-term contract with MHI RJ and build the remaining CRJs in its backlog, it says. CRJ production will conclude when Bombardier assembles the final example, expected to occur in the second half of the year, the Canadian manufacturer says.
Bombardier held outstanding orders for 15 CRJs at the end of March.
Analysts believe the CRJ acquisition is a smart move for MHI owing to the value of the global services businesses for the jet. Mitsubishi Aircraft's SpaceJet programme also needs that global footprint to help drive sales.
Airlines worldwide operate about 820 CRJs, according to Cirium fleets data.
Additionally, the CRJ's certification expertise can help Mitsubishi Aircraft complete certification of its 88-seat M90, which is in flight testing, and - if it proceeds - of its 76-seat M100.
MHI closed the deal despite recently saying it was halving the SpaceJet budget to Y60 billion ($558 million) for the fiscal year ending 31 March 2021.
Following that, Mitsubishi Aircraft on 22 May announced it was closing all sites outside Japan, including a Montreal office and a presence in Moses Lake, Washington, where M90 flight testing was taking place.
As part of the restructuring, Mitsubishi Aircraft also said it is shelving development of the M100, an aircraft designed to meet technical requirements of US regional carriers.
Story updated on 1 June to note Bombardier will continue producing spare parts and components even after CRJ production ends.