Boeing's decision this week to launch development of its 777-8 Freighter marks a strategic shift for the programme – one driven by the dual factors of booming air freight demand and the pandemic's ongoing impact on international air travel.
The company now confirms it has delayed development of the 777-8 passenger variant until after developing the newly revealed 777-8F.
Though the move creates more uncertainty about the baseline -8, prioritising a freighter gives Boeing a jet it can sell now – and an aircraft to counter Airbus's in-development A350F.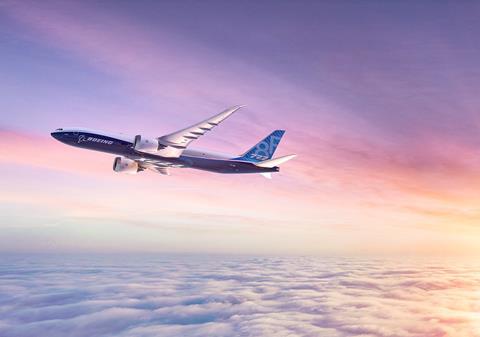 "We remain committed to the 777-8 passenger airplane, which will follow the 777-8 Freighter," Boeing tells FlightGlobal. "Our customers have told us they need additional freighter capacity first, while long-haul passenger traffic continues to recover from the pandemic."
"We designed a freighter into the 777X family from the start, and this flexibility validates that approach," Boeing adds.
The airframer has not disclosed when it expects to bring the passenger 777-8 to market, leaving customers uncertain.
"We don't yet have a firm timeline for our first 777-8 delivery, and continue to engage in dialogue with Boeing in this regard," says Emirates Airline, a 777-8 customer.
The 777-8 passenger variant has never been a huge seller, with Boeing's order backlog for the type standing at 32, according to Cirium fleets data. Of those, Emirates holds 14, Etihad Airways holds eight and Qatar Airways holds 10. (Those numbers could shift due to pending conversions by Qatar.) Boeing itself does not disclose 777X orders by variant; it holds a combined 320 orders for all 777X variants.
Neither Etihad nor Qatar responded to questions from FlightGlobal about their expectations for the 777-8.
But that aircraft is now third in line. First, Boeing must certificate the 777-9, which it aims to have in service be end-2023. Then will come the 777-8F.
Boeing launched the freighter on 31 January with a 34-strong order from Qatar. Of those, only 14 are new orders; Qatar will convert the other 20 from its existing 777X order book, which includes the 10 777-8s and 50 777-9s.
Doha-based Qatar also took options to acquire a further 16 777-8Fs. Boeing expects to deliver the first in 2027.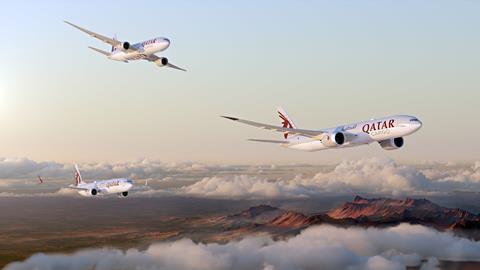 Boeing's decision to prioritise the 777-8F came as little surprise.
The 777-8 passenger jet programme had been stalled since even before the pandemic. Uncertainty arose in 2019, as Boeing worked to keep its delayed 777-9 development programme on the rails. In August of that year, the company put 777-8 development on hold without disclosed a timeline
The Covid-19 pandemic struck shortly after, eroding demand for the international long-haul flights for which Boeing designed the 777X. Meanwhile, Boeing executives hinted about a 777X Freighter.
AIR FREIGHT TAKES OFF
The air freight market has swung wildly amid the pandemic. Air freight capacity sunk 23% year-on-year in 2020, largely because airlines grounded so many passenger widebody jets that had carried cargo in their bellies, according to IATA.
In 2021, air freight came roaring back, with cargo volume up 19% year-on-year due to factors including maritime shipping troubles and demand for medical equipment, IATA data shows.
Meanwhile, demand for dedicated air freighters surged, with Boeing calling 2021 a "record year" for its freighter business.
The company landed orders for 84 new freighters last year, including for 767Fs, 747-8Fs and 777Fs. Customers included Atlas Air Worldwide, Emirates, FedEx, Lufthansa Cargo, shipping company Maersk, UPS and Silk Way West Airlines.
Also in 2021, Boeing took orders to convert more than 100 aircraft from passenger jets into cargo aircraft – "more than double" such order activity prior to the pandemic, it said.
Just days ago, Boeing said it will increase 777 production this year from two to three jets monthly, due partly to more demand for cargo jets.
Boeing estimates airlines globally will need 2,610 additional air freighters through 2040, including 450 new widebodies, according to its 2021 Commercial Market Outlook.
Airbus also leapt into the widebody freighter ring last year, announcing in July it is developing a freighter version of its A350, based "predominantly" on its A350-1000. Airbus aims for the A350F to enter service in 2025.
Amid that backdrop comes the 777-8F.
RANGE, PAYLOAD
The twin GE Aviation GE9X-powered jet will have 4,410nm (8,167km) of range, 766cbm (27,056cb ft) of cargo volume and capacity to carry 31 pallets on its main deck and 13 on its lower deck, according to Boeing. The jet's maximum "revenue payload", which excludes the weight of pallets and other shipping materials, will top out at 112.3t. Its maximum total payload – called "structural payload" – will be 118.3t.
The 777-8F will measure 70.9m (232.5ft) from nose to tail – about 1m longer than Boeing plans for its baseline 777-8 passenger variant, company data shows.
Performance, capabilities: How the 777-8F stacks up
Aircraft
Range (nm)
Payload (tonnes)*
Max take-off weight (kg)
Cargo volume (cbm)
Main deck pallets
Lower deck pallets
777-8F
4,410
112.3
365,160
766.1
31
13
Compared to…
A350F
4,700
109.0
319,057
728.0
30
12
777F
4,970
102.0
347,800
652.7
27
10
747-8F
4,265
133.2
447,700
857.7
34
12
* Payload figures for Boeing jets quoted in "revenue payload" (excludes weight of shipping materials). Airbus lists the A350's "maximum payload".
Sources: Boeing, Airbus, Singapore Airlines
"The 777XF… its going to be a very good freighter, there's no doubt in my mind," says aerospace analyst Michel Merluzeau with consultancy AIR.
George Dimitroff, head of valuations at Ascend by Cirium, views the 777-8F as satisfying a "niche" market. "It would not make sense as a standalone product, but makes perfect sense in tandem with passenger 777s," he says.
The 777-8F's specifications align with those of Airbus's competing A350F, powered by twin Rolls-Royce Trent XWBs.
The European jet has slightly more advertised range, at 4,700nm, and slightly less cargo capacity. Airbus lists the A350's maximum payload at 109t; it does not specify revenue payload. The A350F will have room for 30 main-deck and 12 lower-deck pallets, and 728cbm of cargo volume, according to Airbus and figures published by Singapore Airlines.
Such differences should give the 777-8F and A350F comparable operating economics, says Dimitroff. "Given their similarity in technology, I would expect the operating cost per freight tonne kilometre to be broadly similar."
As for potential demand, Cirium's latest forecast estimates Boeing could deliver 185 777-8Fs through 2040, with Airbus delivering 170 A350Fs.