Russia's invasion of Ukraine has brought fresh uncertainty to Western aerospace companies, many of whom rely on Russia to provide a significant portion of titanium used to produce commercial aircraft and engines.
Russian company VSMPO-Avisma is a critical component in the world's civil aviation supply chain. Airbus and Boeing, and many others in the wider supply chain, rely on imports of the firm's metal, say aerospace analysts.
But the invasion of its neighbour, which began on 24 February, has prompted the West to impose tougher sanctions against Moscow, with the promise of more to come, raising the stakes of a tit-for-tat response from President Vladimir Putin.
Speaking from Washington on 24 February, US president Joe Biden said sanctions will "degrade their aerospace industry".
But economic warfare could equally injure the west's aerospace sector, especially if Russia's titanium supply becomes a chess piece.
"If that [supply] disappeared – that would be a massive issue," says Kevin Michaels, managing director of aerospace consultancy AeroDynamic Advisory. "How long would it take to certify another forge? That would take a long, long time."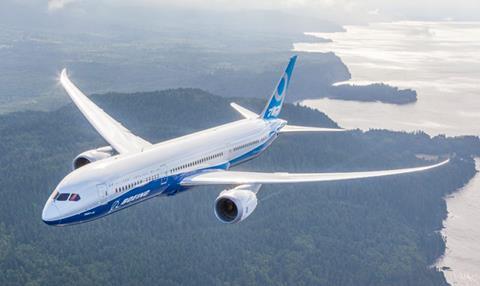 Michaels notes Russia has previously threatened to halt titanium exports but has never actually done so. Even at the height of the Cold War, the former Soviet Union continued to supply the metal to the USA.
Some aerospace companies, among them Boeing, have been preparing for supply disruption by scooping up titanium reserves. That supply could help them weather shortages, says analyst Michel Merluzeau with consultancy AIR.
"There is not a single scrap of titanium on the market left, it was all [bought] up," he says. "As long as this [conflict] doesn't go deep into 2023, there should be limited [aerospace] consequences."
Michaels estimates the aerospace supply chain now has enough titanium for several months of production.
Boeing and Airbus use titanium in their narrowbody jets at component level but rely heavily on "structural titanium" to enable production of their respective composite 787 and A350 widebodies, says Michaels. Titanium represents 15% of the 787s empty weight, a much higher percentage than on other aircraft.
Titanium mates well with carbonfibre because the materials have similar thermal expansion properties. And unlike aluminium, titanium does not, when mated with carbonfibre, degrade through a process called galvanic corrosion.
RUSSIA RULES TITANIUM MARKET
VSMPO is among four major aerospace titanium suppliers, the others being US firms TIMET, ATI and Howmet Aerospace.
But the Russian firm has outsized market share, producing at least half of the global aerospace industry's required structural titanium, says Michaels.
It supplies some 35-40% of titanium used by Boeing, at least half of Airbus's requirement and much of Embraer's, Michaels says.
"VSMPO is by far their largest [titanium] supplier," Michaels says of Airbus. A titanium shortage would "be a huge issue for Airbus".
"It shows the intertwining and vulnerabilities of the aerospace supply chain," says Merluzeau.
Asked to comment, Airbus says, "Geopolitical risks are integrated into our titanium-sourcing policies. We are therefore protected in the short/medium term".
US aerospace supplier Spirit AeroSystems also downplays the risk. Spirit's "contingency processes… mitigate the risk of impacts to our supply chain and enable fulfillment of our delivery commitments to our customers", says the Wichita company.
Boeing last November signed a long-term supply agreement with VSMPO covering titanium components for commercial aircraft, maintaining the Russian firm's position as the largest titanium supplier to the US airframer. The pair also have a joint venture in Russia, the Ural Boeing Manufacturing joint venture.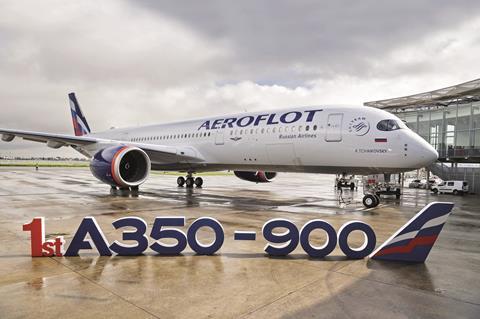 VSMPO forges landing-gear components for 787s and 777s. Experts describe the Russian firm as incredibly skilled at forging large aerospace components.
Boeing declines to comment, saying it is monitoring conditions. Embraer did not respond to a request for comment.
But the US airframer would likely face minimal impact from a short-term titanium shortage, say analysts. That is because Boeing is currently producing relatively few aircraft. Its deliveries of titanium-heavy 787s have been paused for the better part of the last 16 months due to quality problems.
Safran, which uses titanium in its engines and landing-gear operations, has hedged against shortages of the metal by stockpiling the material since the beginning of the year, chief executive Olivier Andries told analysts on 24 February.
VSMPO accounts for "less than 50%" of Safran's titanium requirements, he says, and points out that all components on the CFM International Leap engines it produces with GE Aviation, are dual-sourced to enhance the robustness of its supply chain "and it is equally true in raw materials".
However, with demand for titanium spanning the entire aerospace industry, Andries cautions: "In case of a blockage of titanium supply from Russia it would create certain tensions everywhere."
Small aerospace suppliers could be most impacted, says Torsten Welte, head of SAP's global aerospace and defence practice.
Many such companies lack sophisticated planning tools that could help them cope with supply shortages, which could cause production stoppages.
The same companies are already struggling with labour shortages and increasing costs. Even without titanium troubles, their ability to significantly hike production remains in doubt, analysts say.
VSMPO describes itself as "the world's largest titanium manufacturer". Notably, the company's history aligns tightly with Boeing. In the 1990s, following the collapse of the Soviet Union, Boeing opened a technology research centre and a design facility in Russia.
The US airframer established partnerships with respected Russian aerospace firms and benefited from the country's extremely talented aerospace engineers who were out of work, says a former Boeing executive who declines to be identified.
VSMPO became one such partner. With Boeing's certification expertise, VSMPO rose to become a premier titanium supplier to the global aerospace sector, this person says.