Swedish aviation start-up Heart Aerospace says it plans to build a 19-seat all-electric commercial aircraft that will fly by mid-2026.
Heart, based in Gothenburg, on 23 September presented its regional aircraft design dubbed "ES-19", which will have a range of about 222nm (400km). The company plans to initially target the Nordic countries, but has received inquiries from operators in North America and Asia as well.
In addition to reducing carbon output with its fossil-fuel-free concept, Heart aims to change the world.
"We have the potential to reinvent air travel," the company's founder and chief executive Anders Forslund tells FlightGlobal.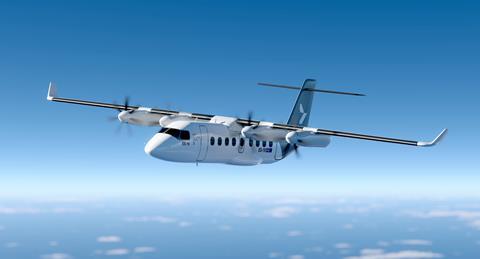 According to ICAO, the aviation industry accounts for about 3% of global carbon dioxide emissions, with about 40% of that coming from short-haul flights. Heart's Forslund believes that alternative-fuel technology such as electric propulsion is the solution to radically cut the environmental impact of these regional connections.
The zero-emissions ES-19 will be able to land and take off on runways as short as 800m (2,640ft), enabling the aircraft to use airfields that are much closer to population centres, thereby also reducing travel time significantly.
"The pendulum has been swinging to hubs, using larger aircraft and reducing the unit costs," he says. "But we now have the technology that will enable us to fly smaller aircraft economically again, [catering to] people who are tired of going to large airports and the hassle of all that just to take a short flight."
"We will reduce the door-to-door time quite significantly," he adds.
In addition to the environmental benefits of forgoing fossil fuels, electric propulsion is quieter and more cost-effective as electric engines are more efficient and have fewer moving parts. The aircraft will consist of a lightweight conventional aluminium airframe and wing, Forslund says.
ELECTRIC VS HYDROGEN
Heart's project announcement comes two days after Airbus presented its plans to move toward hydrogen-powered propulsion for future aircraft development, over concerns that battery technology will not advance quickly enough to adapt to large airliners.
Airbus says that while batteries are "still interesting" for smaller vehicles, such as urban mobility applications, hydrogen has a far greater energy density than even the best batteries, closer to the levels demanded by commercial aircraft.
Forslund recognises that all-electric propulsion systems will not be able to compete on range with larger commercial aircraft, but the aircraft can compete on price, convenience, community noise and climate impact.
The company plans to use these to its advantage and carve out an interesting niche in the regional market
"Aviation is facing one of its greatest challenges ever with the climate crisis and now the pandemic. We need to try all sorts of things to make it sustainable, and test different solutions to see what works."
"And we know that electric propulsion can do regional aviation really well," he says.
Heart says it has so far received "expressions of interest" to purchase 147 ES-19 aircraft worth about €1.1 billion ($1.3 billion) from at least eight airlines across Europe, North America and Asia-Pacific.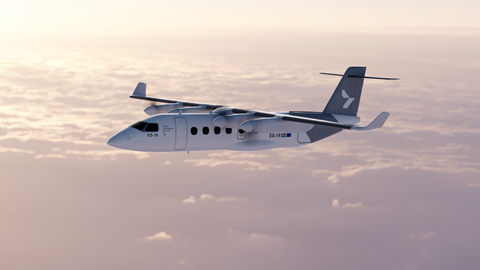 Heart Aerospace was spun out of the Electric Air Travel in Sweden (ELISE) project, which was funded by the Swedish innovation agency Vinnova. It is also an alumnus of Y Combinator, a Silicon Valley start-up accelerator that has helped companies like Airbnb, DoorDash and Dropbox get off the ground.
It is currently backed by Swedish venture capital firm EQT Ventures as well as the Nordic and European Union governments. With this funding the company is now seeking tier one airframe suppliers, Forslund says, but he declined to name them.
FOSSIL-FUEL-FREE NORDICS
With Sweden having committed to make all domestic flights fossil-fuel-free by 2030 and neighbour Norway targeting 2040 for all domestic flights to be 100% electric, Forslund says that the region is an ideal location to test out this type of technology, build the ground infrastructure and "develop the rules on how to deal with electric aviation".
"The Scandinavian market offers an early adopter place for the rest of the world," he says. "It also has progressive governments, citizens who are very climate-aware and a geography that lends itself well to electrification."
Heart is forging ahead with its project despite the potential of long-term negative effects of the coronavirus crisis on the aviation industry. Last month, US aerospace company Raytheon slowed development of its hybrid-electric airliner, dubbed Project 804, because of the global pandemic.
That company had aimed to integrate a hybrid-electric propulsion system into a De Havilland Canada Dash 8-100 turboprop, and to conduct a first flight by 2022. It has not revealed a new timeline.

Pilar Wolfsteller, Americas Air Transport Editor, is based in Las Vegas and brings a pilot's perspective to her beat. She covers airlines across the hemisphere and her interests also include future-oriented sustainable aviation technology and urban air mobility projects. Pilar began her journalism career at the global news agencies Bloomberg and Reuters, and has reported from more than 50 countries.