United Airlines has paid air-taxi developer Archer Aviation $10 million in a first installment on its conditional order with the start-up, representing what the companies say is a "watershed moment" for the electric vertical take-off and landing (eVTOL) industry.
"To receive a cash deposit is validation of Archer's achievements to date, not only with flight testing and product development, but also a great signal of confidence in our roadmap to commercialisation," Archer chief executive Adam Goldstein says on 10 August.
In February 2021, United committed to purchase up to 200 of Archer's in-development eVTOL vehicle, in a deal worth up to $1 billion.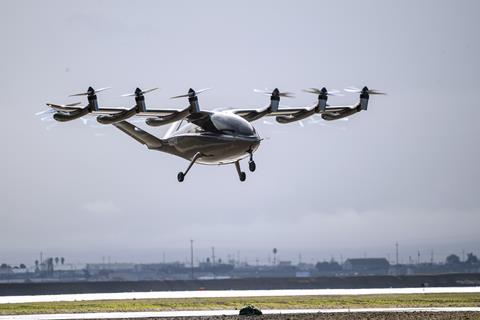 "This announcement marks a new important phase in our relationship with Archer, and our commitment to eVTOL technology," says Michael Leskinen, president of United Airlines Ventures. "We are witnessing an inflection point where consumers, businesses, and policymakers are all aligned to prioritize technology that reduces the impact of climate change."
Leskinen adds that the Chicago-based airline believes that the aircraft "have the potential to both help achieve carbon-neutral travel and serve as an innovative new tool to change how United customers experience comfort, convenience, and efficiency".
Archer introduced its prototype aircraft, called Maker, last June, and the two-seater completed its maiden hover flight on 16 December. Last month, the company said it expects "by year end" to conduct flights during which the aircraft will transition to forward flight.
Maker has 12 wing-mounted rotors, 52nm (96km) of range and can cruise at up to 130kt (241km/h), according to the company.
Archer has said it will build a four-seat variant, which it aims to have certificated for passenger operations by 2024.
In April, the two companies formed a joint eVTOL advisory committee to allow the companies to share expertise on maintenance and operations issues as Archer prepares to bring its air taxi to market.
Archer will report second quarter results later on 10 August.