Cebu Pacific has finalised details of its planned Ps12.5 billion ($258 million) rights offering, aimed at providing the Philippine low-cost carrier with funds to repay debts – including those owed to lessors – and ensuring it has sufficient funds to refund passengers.
It plans to offer 329 million convertible preferred shares with a par value of Ps1 per share and priced at Ps38 per share, according to a 16 February filing with the Philippine Stock Exchange. The dividend yield is 6% per year, although as with common shareholders, companies can also suspend dividend payments to holders of preference shares.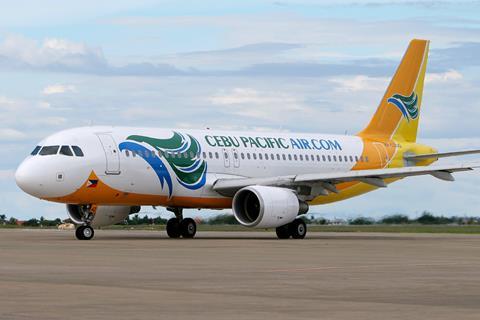 Cebu's shareholders are entitled to one convertible share for every 1.83 common shares held as of 26 February.
The offer period opens on 3 March and closes on 9 March. Within its span, the airline's shareholders can exercise their rights to purchase the convertible preferred shares, ignore those rights, or sell their rights. The tentative issue date is 29 March.
Cebu says it will use the proceeds to strengthen its balance sheet by providing liquidity to address financial liabilities.
These include Ps4.8 billion for the repayment of an advance from JG Summit Philippines; Ps3.92 billion for aircraft operating lease payments due in 2021; and Ps3.33 billion for principal debt repayments due in 2021.
Cebu is also setting aside Ps384 million for general corporate purposes, "primarily for passenger refunds in case cash inflows from operations become insufficient as a consequence of the Covid-19 pandemic's impact to health and travel-related concerns".
Earlier this month, the airline redenominated the rights offering to the local currency of the Philippines in order to allow wider shareholder participation, particularly from retail shareholders.