Higher travel demand and low fuel costs offset lost revenue opportunities as Panama's Copa Airlines continues to post strong earnings even while struggling with the ongoing effects of the Boeing 737 Max crisis.
For the full year 2019, net profit came in at $247 million, compared to a net profit of $88.1 million a year earlier, an almost three-fold increase, Panama's flag carrier says on 13 February. Full year revenue came in at $2.7 billion, a 1.1% increase from 2018.
The grounding of Copa's six 737 Max aircraft, which is central to the airline's growth strategy in the region, has prompted the Panama City-based carrier to reduce its capacity increase expectation for 2020 to 1%, and to rethink its plans to phase its 14 Embraer E-190 jets out of the fleet. They had been slated for retirement on an accelerated time plan.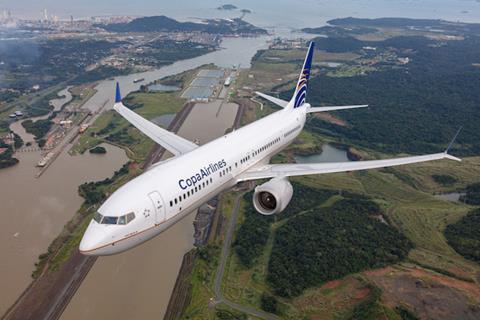 "We have reduced our capacity growth expectations for 2020 and will have to slow down the Embraer transition, with most of the aircraft leaving in 2021," the airline's chief executive Pedro Heilbron tells analysts on the carrier's quarterly earnings call.
Last November, Heilbron had said that the E190s had fulfilled their mission and the company was looking forward to significant financial and operational benefits from flying a 737-only fleet beginning in 2020. Routes covered by the 100-seater Embraer regional jet will in the future be operated by larger-capacity 737NGs or replaced by the Max, once it returns to service, he added at the time.
Now, with the Max still not likely to fly in revenue service until the third quarter of 2020, Copa has had to adjust yet again.
"We have six Maxes parked in Panama, and seven Maxes that have been built and are pending to be delivered," the airline's chief financial officer Jose Montero says. "The plan for the year assumes that throughout the latter part of the year we will get delivery of up to those seven and then we are assuming that the first Embraer will depart the fleet in September and there will be around three aircraft departing in 2020 altogether."
Aside from the Embraer E-190s, Copa flies an all-Boeing 737NG fleet of 77 aircraft and it has 55 more Max on order from Boeing. Copa has taken the type out of its schedule until the end of August.
"There is no certainty of what we are going to get from Boeing yet," Heilbron adds. "We need those airplanes back flying and we are giving up revenue opportunities by not having our full fleet, but we are managing the best we can."
In recent weeks the Federal Aviation Administration (FAA) has suggested the aircraft could be flying again by mid-year, but it will take much longer to return them to revenue service.
Heilbron says it is currently unclear as to how many of the ordered aircraft Copa will receive in the course of the year. "In terms of time to get them back in the air, we expect it will be less than a month, maybe two to three weeks, and the [pilot] training should not be an issue. We continue training our pilots in the Max simulator. We do not know all the new requirements, but they are proficient in the Max simulator, we have not stopped doing that."
In January, Boeing said it will recommend pilots complete flight simulator training prior to returning to the cockpits of the 737 Max - a position reversal for a company that long insisted computer-based training was sufficient. The FAA said at the time that it was reviewing Boeing's recommendation, but has not disclosed what training it will ultimately require when clearing the Max to fly.
Pending the training requirements, the FAA will also have to approve all revised airline training materials before they are implemented. This could add to the delay in getting the aircraft back flying at many airlines.
Montero adds that the company's growth predictions for 2021 rely on "what the delivery stream ultimately ends up being for the Max aircraft that we have. It's premature yet to determine what that will be. We still have a lot of flexibility in our fleet plan in terms of leased and return of aircraft, and extension options to adjust our capacity."
UNITED-AVIANCA JV
The airline's planned joint venture with Star Alliance colleagues Avianca and United Airlines is still on track, Heilbron says, despite significant delays in filing the paperwork with the US Department of Transportation.
"The three airlines United, Avianca and Copa are still very much interested," Heilbron says. "It is an important tool that will be good for passengers, good for the market and good for the airline. The intent is to file still this year, everything that has happened at Avianca has delayed the filing of the paperwork but it should happen sometime this year."
Crisis-ridden Colombian flag carrier Avianca is in the process of implementing a comprehensive strategic turnaround plan designed to bring the business back to profitability. In the past year it has restructured debt, changed ownership and hired a new management team.
Copa says that its low-cost subsidiary Wingo, which flies primarily international routes out of Bogota with some domestic services as well, also had a positive year, as it upgrades its fleet to 737-800s from the smaller 737-700s. The subsidiary will receive its fifth aircraft at the end of 2020, and expects to grow by 30% during the year. Copa executives say though at the moment it only contributes 3% to Copa's overall revenue, it is a "very important part of overall Copa strategy" in the region.
Wingo serves 16 cities in 10 countries across the region, on 22 routes.
PANAMA CITY TO LONDON?
In recent weeks, the Panamanian government held meetings with a competing low-cost airline about establishing a Panama-to-London connection, a route currently not served by any carrier. The distance would be a stretch for Copa's all-737 fleet, even when the Max returns to service, and the likelihood that one of its partners would launch such a route is low, Heilbron adds.
"None of our partners are UK-based, but I do think it's an interesting market, an important business market. Both London and Panama are financial centers and Panama would be an attractive destination for passengers from the UK or England," Heilbron says. "I can understand our government pushing for that service. But it wouldn't be one of our partners servicing it."