Croatia Airlines is to hold an extraordinary general assembly to approve a recapitalisation scheme which involves raising Kn350 million ($54.7 million) through a share issue.
Under the proposal, to be discussed at the 14 December assembly, the share capital of the airline would increase from Kn277.8 million to Kn627.8 million.
Croatia Airlines would issue 35 million new shares, with a nominal value of Kn10.
"The purpose of the share capital increase is to return the company's capital and reserves to pre-crisis levels," says the carrier.
It says the increase in share capital shall be carried out through an investment agreement concluded between the airline and the Croatian state.
Shareholders other than the government will be excluded from participating in the offer.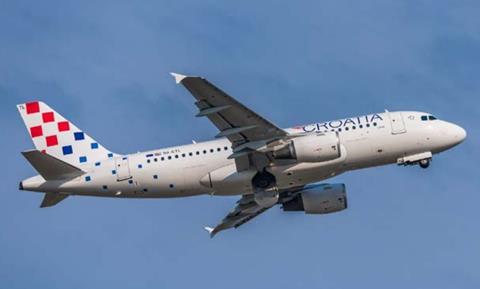 Croatia's transport ministry, on 13 November, put forward a proposal to inject Kn88.5 million into the company to compensate for damage inflicted by the pandemic from 11 March to 30 June.
The ministry's proposal says the payment of these funds must be made by 31 December at the latest.
Croatia Airlines, it states, is "no exception" to the "devastating" effects on the aviation industry arising from the pandemic.
"As a state-owned carrier, it has a strategic role in Croatia's transport infrastructure, which has proved particularly crucial in this crisis period," it adds.
But it states that the carrier experienced "no significant financial shift" in the crucial summer months, when it would typically generate the largest inflow of funds under normal circumstances.
Croatia Airlines' latest financial disclosure shows it turned in an operating loss of Kn222 million and a net loss of Kn243 million for the nine months to 30 September. Passenger income fell by two-thirds to Kn393 million.
Over the seven months of the crisis from March to September the airline cancelled 12,800 flights. It says revenues from tourism account for an "extremely large share" of the country's GDP, and that both the pre-season and main tourism season have faced a substantial impact.
Croatia Airlines had a fleet of 12 aircraft at the end of September, comprising six Airbus A320-family jets and six Bombardier Q400s. The airline cancelled plans to lease additional Bombardier CRJ and Q400 capacity for the peak season.
"Given the circumstances and reduced demand, greater emphasis was placed on the use of the Q400 fleet, whose aircraft have a smaller capacity than the Airbus fleet," it states.
Croatia Airlines says the most significant risk affecting its operation is maintaining liquidity, particularly since the duration of the crisis is uncertain. The airline is not expecting a substantial improvement in performance as it heads into the low winter season.
It says it has had to develop "several versions" of its crisis business plan, with the current one involving a reduction of flights since August owing to the "deterioration" of the epidemiological situation in Europe.