Delta Air Lines, the only major US airline without Boeing 737 Max in its fleet, posted strong full-year 2019 results, as passenger demand rose and the carrier benefitted from rivals' difficulties with the grounded aircraft.
Delta's full-year net income rose to $4.8 billion, up 23% from $3.9 billion in 2018, while total revenue rose 7.5% to $47 billion from $44.4 billion a year earlier. In the fourth quarter, net income was up 9% to $1.1 billion.
The company said it will be sharing profits with its 90,000 employees, to the tune of a record $1.6 billion, up 23% from 2018.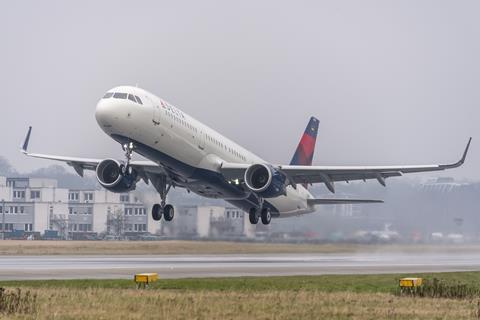 "As we enter 2020, demand for travel is healthy and our brand preference is growing, positioning Delta to deliver another year of strong results," says chief executive Ed Bastian on 14 January. The company says first quarter revenue is expected to rise another 5% to 7% year-on-year.
The Atlanta-based airline reported a 6% increase in passengers transported during the year, to 204 million, an all-time record and translating to a load factor of 86.3%.
Delta is the only major US airline that does not have Boeing 737 Max in its fleet, and thus, unlike rivals, is not negatively affected by the aircraft's grounding, now in its eleventh month. The FAA has remained silent on when it will certificate the aircraft, and when it could return to regular passenger service. Several airlines have taken the type out of their schedules into the second quarter.
The Atlanta-based carrier has 217 737NGs.
"We have been watching the Max story for the last year," Bastian says. "But we are not deviating on our plan based on news flow. We have a strong plan and to the extent that we pick up some marginal revenue - which we have - that's great. We have clearly been a beneficiary as long as the Max stays out of the sky we will continue to be one."
GLOBAL REACH
Delta says its expanded global reach, including several new routes between US cities and cities in Asia and Europe, have strengthened its coastal hubs, like those in Boston, New York and Seattle. Executives say the airline will continue to invest in these coastal hubs, as well as Los Angeles.
Routes Delta launched during the year include Amsterdam-Tampa, Boston-Edinburgh, Boston-Lisbon, Minneapolis-Mexico City, Minneapolis-Seoul, New York-Bogota, New York-Mumbai and Seattle-Osaka.
In Asia, Delta executives say the airline will consolidate its Tokyo operations at Haneda airport, favoring the field closer to the city centre over Narita. In addition, Delta will shift Beijing flights to the new Daxing airport, the first US airline to do so.
"These are strategically important and the final steps of multiyear restructuring journey in the Pacific," says Delta president Glen Hauenstein.
"There is some uncertainty around the airport moves," Bastian adds. "These are two major moves, leaving Narita after almost 50 years, there is uncertainty over how many people want to fly to Haneda but we are confident that Haneda is a better airport to serve Tokyo than Narita."
As for Beijing, Bastian says connectivity will be better from Daixing airport, allowing customers to connect to a wider array of destinations. "We think these are the right moves for us," Bastian adds
Bastian says Delta plans to invest more than $500 million in new technologies, a small foretaste of which he showed off at the Consumer Electronics Show last week. Focus areas will include customer experience improvements like "parallel reality" and an upgraded Delta app, as these tech investments move from infrastructure to business and commercial applications.
That said, new tech will not come at the expense of fleet decisions. Delta took delivery of 88 new aircraft during 2019, including A220-100s and A330-900neos, and expects another 80 aircraft in 2020.
"We are not trading off technology for planes," Bastian says. "We need to have continued enhancement of our fleet and are expecting to take delivery of 80 new aircraft in this year, but these fleet investments are also facilitating technology."
Bastian adds the airline has not decided which aircraft will replace its aging 757s. According to Cirium fleets data, Delta operates 127 of those aircraft. "We are looking at Boeing's NMA and the Airbus offerings but we are not close to any decisions on that." He also would not comment on the timeline to make those decisions.
LATAM STAKE
On 30 December, Delta announced it acquired the 20% equity stake in LATAM Airlines Group for $1.9 billion, completing a deal it had announced in September. The aim is to gain greater foothold in the heavily contested North America-South America market. LATAM will be ending its codeshare deal with American Airlines on 31 January 2020, and begin codesharing with Delta for flights operated by certain LATAM affiliates in Colombia, Ecuador and Peru beginning in the first quarter of 2020.
"We are excited about that partnership and think it's going to have great long-term benefits," says Hauenstein. "We are just starting to put key components in place. It has exceeded our expectations in the early days, and it will be a game changer for us in Latin America."
Bastian adds, "As we start to build out the joint venture you are going to see this spool up faster than any of our other JVs. There's really good alignment, focus and growth opportunities for both carriers throughout the Americas."
Last week the US Department of Transportation also allowed Vietnam Airlines and Delta to widen their codeshare cooperation. From this month, Delta will be able to sell tickets for Vietnam Airlines-operated flights between Hanoi and Tokyo, for passengers connecting onward to the US.
Other highlights of the year included approval by the U.S. Department of Transportation of antitrust immunity for an expanded joint venture between Delta, Air France, KLM and Virgin Atlantic, and the merger between private charter company Delta Private Jets and Wheels Up.
The Wheels Up deal, announced in December and scheduled to close in the first quarter of 2020, has Delta acquiring an undisclosed stake in Wheels Up and combining its 70-strong business jet inventory with the New York-headquartered membership-based operator's fleet of some 120 Textron Aviation types. The line-up consists of Beechcraft King Air 350i twin-engined turboprops, Citation Excels/XLSs, Citation Xs and Hawker 400XP business jets. The combined company has 8,000 customers.